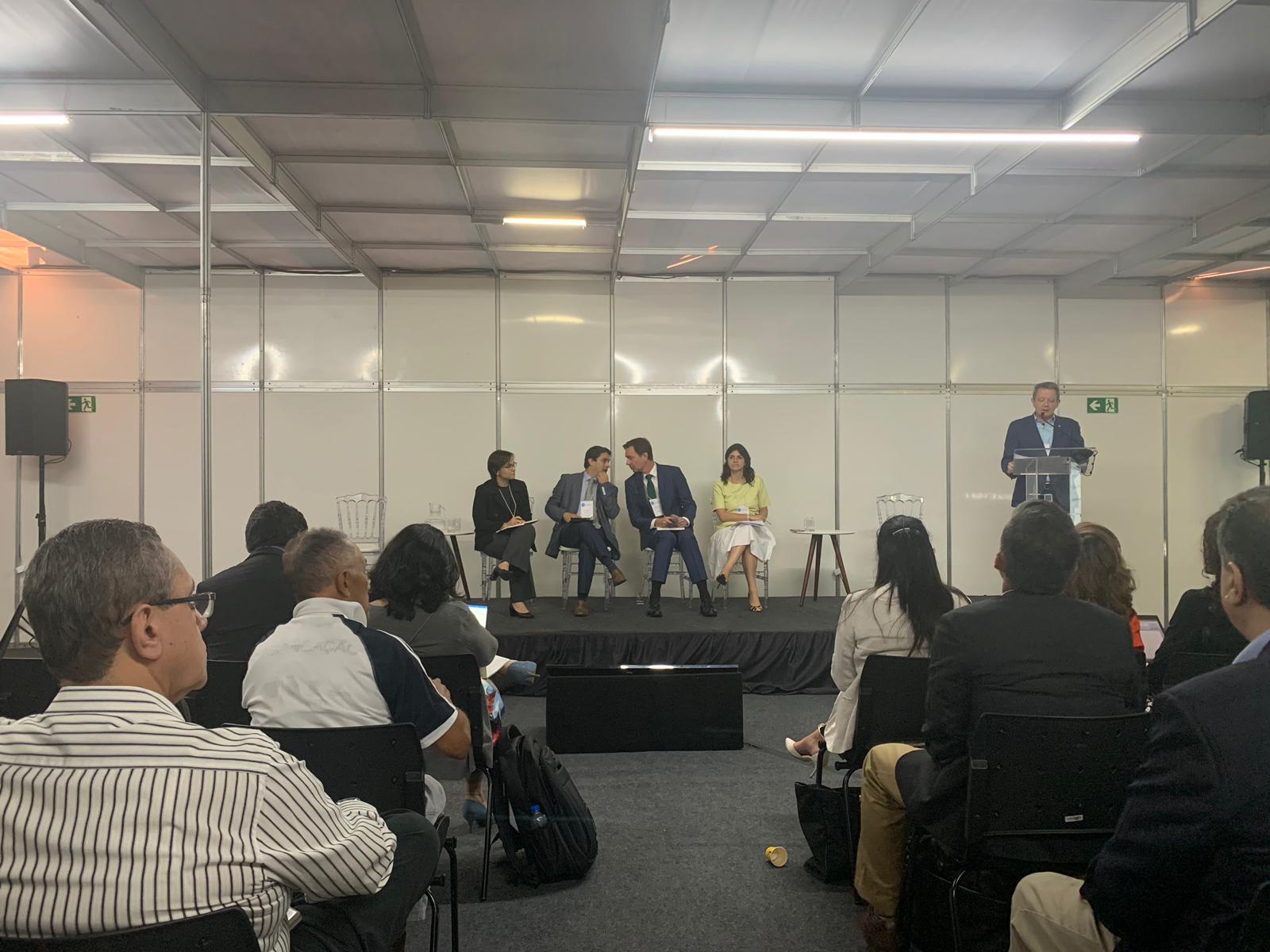 Brazil Addresses Climate Change Challenges
Salvador / Brasil,
August 23, 2019
The Latin America and Caribbean Climate Week was held in Salvador, Brazil, on August 19–23, attended by more than 4,000 people from 26 countries, who gathered to advance the regional agenda of addressing causes and consequences of climate change.
The conclusions of the discussions held during the meeting, organized by the United Nations with the participation of CAF, will be an input for the UN Climate Summit to be held in New York City in September this year.
As part of the official and parallel events held during Climate Week, CAF organized a panel entitled "Climate Risk Assessments as a Support Tool for Planning Processes at the Sub-national Level" on Thursday, Aug. 22.  This roundtable featured the Mayor of Sao Bernardo do Campo (Sao Paulo), Orlando Morando, WayCarbon Project Manager Melina Amoni, the Superintendent of the Department of Environment and Sustainability of Pernambuco, Mauricio Guerra, and Francisco Maciel, CEO of the Intermunicipal Consortium of the Metropolitan Western Region of Sao Paulo. Other participants included municipal and state officials, researchers, experts and students.
Topics included urban challenges to address adaptation to and reduction of greenhouse gas emissions, methodologies for assessing climate vulnerability in cities and public sector experiences in emission monitoring and planning of adaptation actions.
"The arguments presented today show that the climate change agenda is clearly making strides in Brazil, mainly at the municipal and state level. While the topic was perceived before as a remote issue in the local agenda, today we see that the challenges of climate change are part of urban daily life and directly influence the dynamics and development of cities," said Edgar Salinas, Senior Executive of Environment and Climate Change at CAF.  According to Salinas, there is a prevailing need to design comprehensive projects that include sustainability indicators at their design stage, during implementation and operation.
Mayor Orlando Morando presented the details of the largest major drainage project built in Brazil in recent years, the Paço Flood Pool, which opened on August 20, and will significantly reduce cases of flooding and their impacts on the central area of the Sao Bernardo do Campo municipality. "Today, the climate agenda is a strategic issue for municipal administrations," the Mayor added.
Andrés Alcalá, Transport Specialist of the Directorate of Infrastructure Analysis and Technical Assessment at CAF, participated as a guest expert in the panel "Investments in the transformation of mobility for sustainable cities," held on August 21. This panel focused mainly on technological solutions to reduce emissions from the transport sector, such as electrification of the public transport fleet and increased use of biofuels. Alcalá noted that, in addition to technology innovations, the region still needs to study and document other external factors that are increasing healthcare costs, and the impact on productivity caused by air pollution. With regard to the electrification of transport, Alcalá explained that in addition to replacing fossil fuel vehicles with electric vehicles, emphasis should be made on the importance of urban management tools that contribute to mobility solutions.