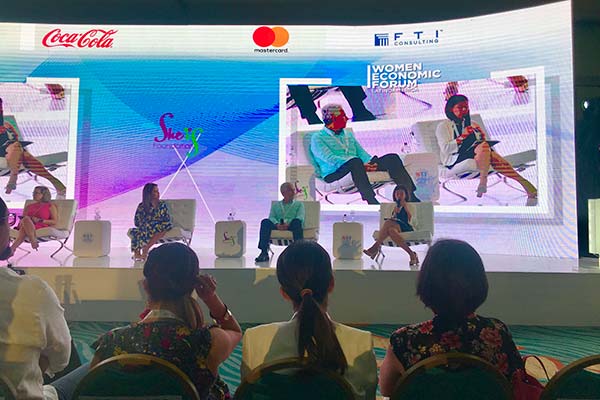 CAF presents progress in women's financial inclusion at Women Economic Forum
Cartagena de Indias, Colombia,
August 05, 2019
During the Women Economic Forum (WEF) held in Cartagena de Indias, Carolina España, CAF representative in Colombia, discussed how banking can be more gender-inclusive and support business development as part of the sustainable development goals.
"Much remains to be done to ensure that Latin American women can compete on an equal footing with men in terms of access to financial systems. Financial literacy is the only way to reduce gender gaps," said España.
The panel entitled "Inclusive and Sustainable Financial System" also featured Margarita Correa, Co-Founder and Chairperson of the Board of Directors of Bancamía, Aimeé Sentmat de Grimaldo, President of Banistmo, Panama, Darys Estrella, and Jaime Bonet, from Banco de la República.
At the closing of the Women Economic Forum Latin America, representatives of the private sector and non-governmental agencies signed a "Great Global Pact for Gender Equality," an alliance in which they pledged to drive actions aimed at reducing the gaps that affect women's development and growth.
The WEF is the only regional forum focusing on women's economy, and was held this year for the first time in Latin America.  It has more than 500 regional chapters, with 150 allied countries and a global chamber (ALL Ladies League) with 50,000 members, with the aim of pursuing initiatives for women's economic progress.