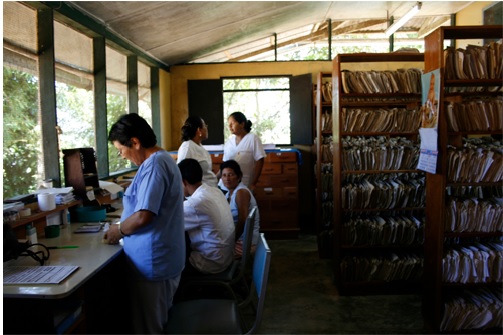 NAPO social innovation project brings telecommunications to Peruvian Amazon
Lima / Perú,
August 05, 2019
Around 3,000 residents in six isolated communities in the Napo River basin have now mobile broadband access and 13 healthcare facilities offering telemedicine services.
On August 1, the President of Peru, Martín Vizcarra, and the Minister of Health, Zulema Tomás, visited the town of Santa Clotilde in the Peruvian Amazon (Maynas province, Loreto). During the visit, the Minister of Health learned first-hand about the telemedicine solutions offered by the Healthcare Micro-network provided under the NAPO international cooperation and research project, which focuses on the deployment of mobile communication in isolated rural communities.
The NAPO project: "Social Innovation with Connectivity and Health: 3G Mobile Telephony and Maternal and Child Care in Amazonian Communities" aims to guarantee the right to communications of rural populations, focusing on the Peruvian Amazon as a particularly isolated region. The social innovation initiative provides voice and data mobile coverage to isolated communities through a social and sustainable business model, harnessing the potential of ICTs (Information and Communications Technologies) to revitalize the communities and improve basic services such as healthcare. In fact, the project also uses internet connectivity to improve public maternal and child healthcare services through innovative telemedicine and mHealth tools: tele-stethoscopy, tele-ultrasound and community healthcare mobile apps. These solutions enable nurses in the most isolated areas to receive remote support from medical staff for diagnosis and treatment of health problems of the population, as well as coordination in case of emergency. 
The #SocialInnovation initiative provides voice and data mobile coverage to isolated communities through a social and sustainable business model
This initiative involves the use of technology as a key tool to drive rural development processes, in line with Sustainable Development Goal No. 9, which focuses on innovation and infrastructure in vulnerable areas. Since 2016, NAPO has made mobile broadband services available to some 3,000 residents of six isolated communities in the Peruvian Amazon, and has provided internet connectivity and telemedicine services to 13 rural healthcare facilities. The service has provided more than 500 teleconsultations to date, and in the coming days, mobile service will be expanded to cover two additional communities, while work continues to extend 3G/4G coverage to the entire Napo River basin. In partnership with Social Innovation, CAF, the EHAS Foundation and the PUCP are currently focusing their efforts on extending this model to other departments in Peru with rural areas that have similar communication needs, such as Cusco and Cajamarca, in line with the "Internet for All" project, a venture sponsored by Telefónica, CAF and other strategic partners.
The NAPO initiative was launched in 2016 by the Spanish NGO EHAS Foundation and the Rural Telecommunications Group of the Pontifical Catholic University of Peru (PUCP), in partnership with and financed by CAF—development bank of Latin America. The project has also the support of the Regional Government of Loreto, Telefónica del Perú and Telefónica R&D, the NGO PANGO, MAYU Telecomunicaciones, a rural telephony operator, Hispasat, GMV and Universidad Rey Juan Carlos (URJC), in addition to recent financial support from the Community of Madrid and the Spanish Agency for International Development Cooperation (AECID).