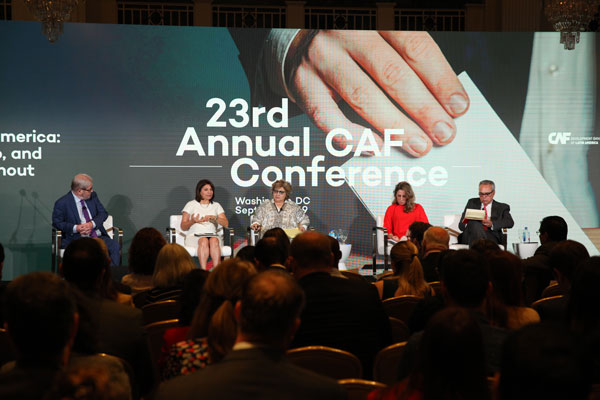 Latin America Not Immune to Global Political and Economic Volatility
Washington D.C., Estados Unidos,
September 05, 2019
During CAF's Annual Conference in Washington D.C., a group of international experts discussed how Latin America can tackle development challenges in a global climate marked by deteriorating multilateral relations and global economic volatility.
Between 2005 and 2013, Latin America grew at an average rate of 5%. From 2013 to date, growth has stagnated at 1%. In addition to this modest performance, there is growing discontent towards the political class, public safety and major corruption scandals.
"We are sailing through a storm," said Laura Chinchilla, former President of Costa Rica, during the second day of CAF's 23rd Annual Conference in Washington D.C. Chinchilla explained that citizens have an increasingly negative perception of government officials, and this has spurred protest voting in several elections. "It is difficult to meet people's expectations of new governments," said the former President of Costa Rica.
In the same vein, Michael Reid, Senior Editor at The Economist, noted that we need to rethink the quality of democracy and strengthen its capacities to trigger the changes Latin America needs.
The conference experts concurred that one of the main initiators of the regional political unrest is social media and digital platforms.
In fact, according to Catalina Botero, Dean of the School of Law of Universidad de los Andes, the social network boom has had an impact on almost every recent election. "There are forms of political communication that can be easily manipulated by domestic or transnational groups, or other countries, in order to influence elections through the use of data aimed at misinforming the public," Botero said.  
"The context in which misinformation is taking place is a fundamental issue," said Hugo Alconada Mon, Research Editor of La Nación, who also stressed that audiences are moving on an emotional plane, while the media tends to do so on a rational plane, and thus certain types of information are often discarded.
For NTN24 journalist Andrea Bernal, data management, social media and bots can undermine the integrity of public institutions and journalism, which must be redefined in order to face confidently the challenges in the coming years.  
Facebook is one of the main social media at the center of a political storm in the US because of its use of user data. Crystal Patterson, Global Civic Partnerships Manager at Facebook, said the platform is taking steps to eradicate fake news and minimize its impact on elections. "We are working to raise awareness among users to improve their information consumption, as to whom and why they display a certain message," Patterson said
The last session of the CAF Annual Conference featured panel between Luis Vicente León and Michael Shifter, President of the Inter-American Dialogue, which analyzed the critical situation affecting the country and possible future scenarios.