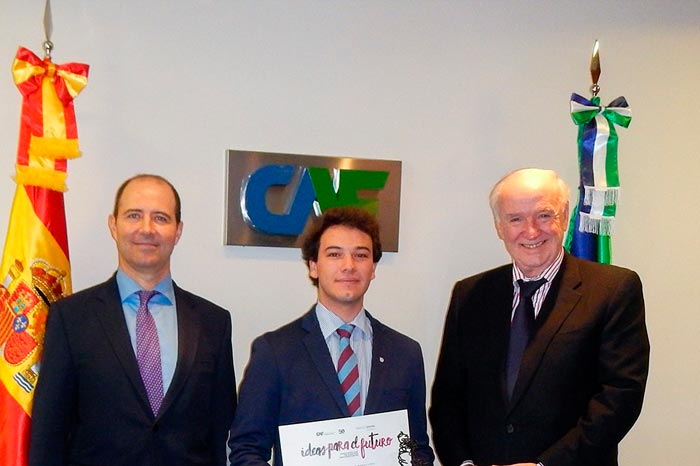 CAF and Bank of Spain Reward University Student Talent
Madrid, España,
October 24, 2019
CAF and the Bank of Spain present the #IdeasForTheFuture award to two students from the Carlos III University of Madrid and the University of Barcelona.
Elizabeth Lucho and Javier Ramos—students at the University of Barcelona and Carlos III University of Madrid, respectively—have been announced as winners of the national phase of the #IdeasForTheFuture university student essay competition, organized by CAF—development bank of Latin America—, in collaboration with the Bank of Spain, in an effort to disseminate the vision of young people on key issues of Ibero-American development.
Ramos won the Innovation category with an essay on the role of innovation as a driver of Latin American development, while Lucho's entry on the relationship between public-private partnerships, transparency and competitiveness took the Public Policy prize.
The two winners of the Spanish side of the competition were congratulated by CAF representative in Europe José Antonio García Belaunde, as well as Bank of Spain's International Economy and Euro Zone chief Javier Pérez and Latin America and Emerging Economies head Juan Carlos Berganza, who was also part of the jury. The authors are also eligible for the $2,000 prize, to be awarded to the overall winner of the initiative, and to be presented during the CAF Conference in Quito, Ecuador, on November 7, 2019.
In his speech, García Belaunde emphasized the importance of these competitions to appreciate the vision of young people on such important topics as innovation for Latin America. "The region still has a long road ahead to reach performance levels of the most advanced economies, and must focus its efforts on fostering innovation as a growth mechanism and as a formula to boost productivity and competitiveness in an attempt to integrate into global value chains," he said.
#IdeasForTheFuture, an initiative by CAF—development bank of Latin America—which celebrates its 50th birthday, in collaboration with the Bank of Spain, promotes the exchange and discussion of ideas to favor sustainable development and regional integration by fostering the best university talent.