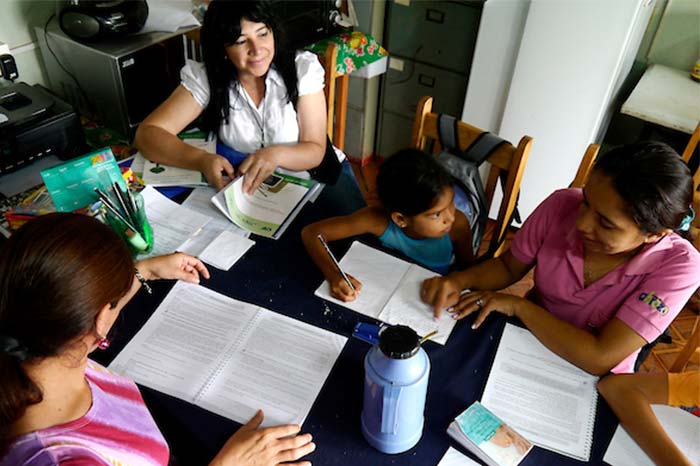 First PPP Project in Uruguay Education Sector
October 02, 2019
By funding a Public Private Partnership (PPP) project, CAF will help improve access to preschool education, and in general strengthen early childhood in the country.
CAF—development bank of Latin America—will finance the first Private Public Partnership (PPP) project in Uruguay's education sector. The proposal will be feasible thanks to the agency's USD 5.25-million loan and its important catalyst role with the "Fondo I" debt fund managed by its subsidiary CAF AM Administradora de Activos Uruguay S.A., which completes the financing with US$54.4 million.
The first phase of the Educational Project provides for the construction of 59 schools for children in ages 0 to 6, in 15 of Uruguay's 19 departments in areas where the largest coverage deficits have been identified. Specifically, it calls for the construction of 44 kindergartens, which focus on children between three and six years old, and 15 Child and Family Care Centers (CAIFs), providing care for infants up to the age of three from families from impoverished socio-economic backgrounds.
The project aims to cover the deficit in access to early childhood care services. While preschool starts from the age of four, there is still a gap in care from ages 0 to 3. The net enrolment rate in three-year-olds by 2017 is 72.5% according to the report "Educational achievement and enrolment rates in the population (2017)" prepared by the Ministry of Education and Culture (MEC), and the access gap at this age is primarily concentrated in lower-income households.
This is the first of four initiatives planned by the Uruguayan government for the design, construction, operation and financing of educational infrastructure. In total, the four projects cover 165 new preschools, primary, secondary and technical and technology schools and 40 early childhood care centers. The investment for all four educational PPPs amount to USD 327 million.
Currently, CAF is evaluating the second PPP (Education II) project, which will help expand the technical and technological education offering and classroom hours in primary education, through the design, construction and a 22-year maintenance program of 23 full-time schools, nine technology hubs and ten sports centers.
CAF's actions in Uruguay are part of three prioritized strategic lines, in which the country is facing major challenges. These include:
Reducing the offering gap and improving the quality of early childhood care
Ensuring universal access to and completion of middle school education, where there are currently high dropout rates
Strengthening the link between education and labor
CAF works along these line by financing infrastructure through PPPs and cooperation and technical assistance to improve the quality and relevance of educational offerings, as well as to generate knowledge in an effort to scale in the short and medium term initiatives currently in early stages.