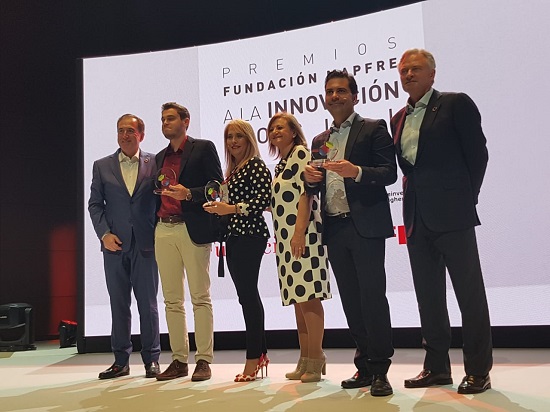 Fundación MAPFRE Recognizes CAF Social Innovation Initiative
October 29, 2019
The MIBKCLUB initiative won based on its innovative nature, as it proposes to redirect the family budget of vulnerable groups towards smart investment.
The second edition of the Fundación MAPFRE Awards for Social Innovation selected three transformative projects from around the world that improve people's quality of life.
"In such a globalized world, these seem small innovative projects, but they produce tremendous benefits, especially for those who need it most," said the Spanish foundation's Chairperson Antonio Huertas.
In this second edition, 26 semi-finalist projects competed in the final in Madrid, on October 9–10 last year, with three initiatives awarded in the "Innovation in Insurance," "Sustainable mobility and road safety" and "Health Improvement and Digital Technology (e-Health)" categories. Each winner received a 30,000-euro prize.
MIBKCLUB, the winning project in the Innovation in Insurance category, has been promoted since its inception by the CAF Social Innovation Unit. The MIBKCLUB initiative seeks to help people in marginal communities in Colombia access education, leisure, health and insurance products and services, which until now were beyond their means. This improves the living conditions of their families and the community, and enhances their chances at financial inclusion.
CAF Director of Social Innovation Ana Mercedes Botero noted that social innovation is a powerful tool to help improve the living conditions of vulnerable groups. In the case of MIBKCLUB, the purpose was to create a public-private ecosystem to provide a service and smart investment offer to low-income families through an innovative channel tailored to their needs.
The other two winning projects were NaviLens (Spain), a fully autonomous navigation system that guides visually impaired people, using a powerful algorithm based on Artificial Vision; and NEUROBOTS (Brazil), a system to rehabilitate stroke victims, based on brain sensors that use cerebral activity to move an exoskeleton, greatly improving patient mobility in weakened upper limbs.