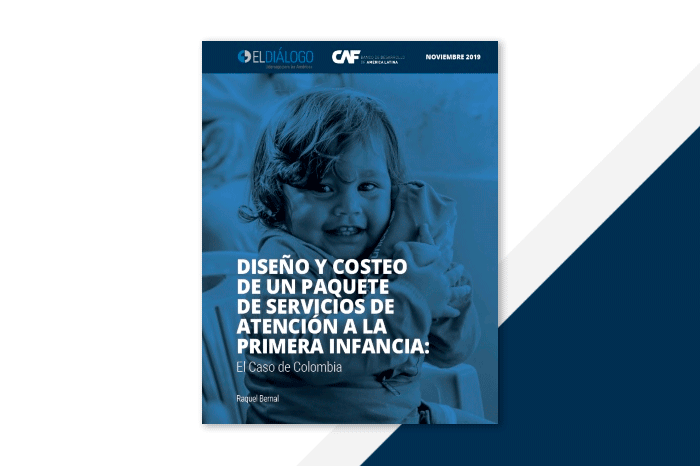 Early Childhood Care Packages
December 09, 2019
CAF and the Inter-American Dialogue present the document "Design and Cost of Early Childhood Care Package Services. The Case of Colombia," which puts forward a comprehensive plan of actions and their respective costs.
There is a consensus that early childhood investments have an high impact on growth, development and equality in countries. During this stage, the brain is most flexible and has the highest growth rate. Thus, the right interventions in health, nutrition, cognitive and socio-emotional stimulation ensure the full development of the capacities of individuals.
As a result, countries have been investing more in early childhood care.  However, the implementation of such programs has been complex, and there is evidence of care programs without cross-sectoral articulation or without mechanisms that ensure quality of services. Some small-scale interventions have been successful, but have not been as effective when scaled.
The definition of a minimum early childhood care package and cost estimation is an excellent contribution to guiding countries in the approach they should use, the minimum interventions to be considered and the funds available to them to offer a comprehensive service to children ages 0 to 5 and to ensure their full development.
The intervention package in the case of Colombia considers interventions by age range, from gestation to age five, and includes health, nutrition, cognitive and socio-emotional development and guarantee of rights. The calculation considered the value of health services, nutrition, parenting programs, social bonuses, programs in case of violated rights, among others, as part of the intervention package.
Evidence suggests that for these intervention packages to have the expected impact they must be designed with comprehensive but easy-to-implement, evidence-based care as guiding principles, taking into account local restrictions: human resources, institutional capacity, socio-cultural characteristics, regional diversity and an inclusive approach that ensures gender equality and attention to special needs.
Support for this publication is part of CAF's efforts to promote initiatives that foster comprehensive early childhood care with a cross-sectoral approach and emphasis on the most vulnerable sectors.