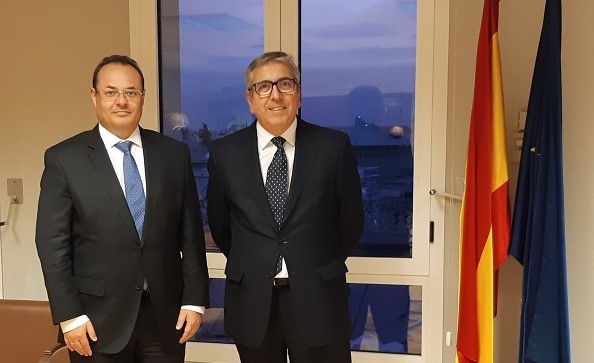 New line of credit to boost sustainable projects in Latin America
Madrid, España,
January 16, 2020
ICO and CAF launched a new USD 200 million line of credit to boost sustainable projects in Latin America and strengthen ties between Spain and the region.
The president of Instituto de Crédito Oficial (ICO), Jose Carlos García de Quevedo, and the executive president of CAF—development bank of Latin America—, Luis Carranza, ratified the launch of the new credit facility, announced during COP25, for a total of USD 200 million to fund projects of Spanish capital as part of ICO's International Channel Line. 
At a meeting in Madrid, the two presidents praised the 20-year relationship between ICO and CAF collaborating and exchanging resources and knowledge to promote sustainable development in Latin America.
The funds to be disbursed by ICO to CAF, upon the signing of the operation, will be used to finance and promote activities and projects of companies with Spanish capital in Latin America, with special focus on sustainable or green projects. To this end, CAF will channel these funds directly or collaborating with financial institutions in various Latin American countries, thus expanding the geographical coverage of ICO's International Channel Line.
Thanks to the cooperation of agencies such as CAF, the International Channel Line offers Spanish companies operating in third-party markets financing possibilities for their projects in local currency, in countries where they are engaged in investment projects or export activities. Thus, application procedures are streamlined and local market knowledge is shared to companies as added value.
Since the launch of the International Channel Line, ICO and CAF have signed three agreements, for a combined USD 630 million. These institutions share the common goal of promoting business development between Spain and Latin America and fostering the internationalization of Spanish companies, as well as the same funding model that prioritizes the environmental and sustainable nature of selected projects in an effort to help protect the environment and fight against climate change.
As part of its strategy to boost the internationalization of Spanish companies, ICO has worked strenuously to fund flagship projects in Latin America with the participation of Spanish companies. Over the past three years, ICO has formalized more than 4,000 Latin American-related operations, totaling 2.5 billion euros.