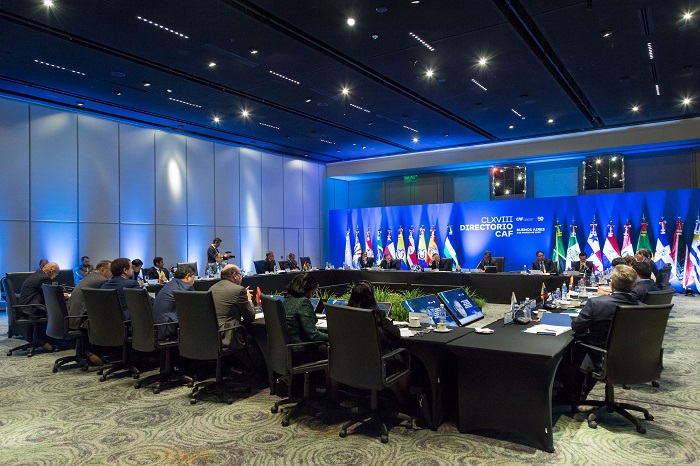 CAF Strengthens Support for Paraguay's Local and Regional Integration with USD 100 million for the Puerto Indio Access Road
Buenos Aires / Argentina,
March 03, 2020
The project will contribute to the integration of the Mbaracayú district in Alto Paraná and its area of influence with the rest of the country and Brazil, by paving 61 km of National Route 21 and improving the infrastructure and service area of Puerto Indio. It will also improve connectivity and welfare for the more than 150,000 residents of the area.
In order to improve the connectivity and accessibility of production and the more than 150,000 residents of Mbaracayú and its area of influence, as well as to strengthen trade between Paraguay and Brazil, the CAF-Development Bank of Latin America-Board of Directors has approved funding of up to USD 100 million to Paraguay. The project reduces the logistics costs of using the Puerto Indio pier to ship soybeans, corn and wheat to Brazil through Puerto Santa Helena, where an integrated border control area for both countries is located.
In addition to paving 61 km of National Route 21 – used by more than 1,200 vehicles per day – the project also encompasses improvements in the area of the Puerto Indio pier, such as the construction of a truck service area at the head of the port, as well as enhancements to its cargo loading infrastructure, lighting and safety measures. Finally, a pre-investment study component is included in order to accurately size port works and develop projects that allow it to reach its full potential.
"This project is expected to achieve savings in transport costs, improving vehicle operation and travel times both for the cargo currently circulating across the region and new cargo to be added in the future," said CAF Executive President Luis Carranza, adding that he expects a boost in private investments and job creation in the area.
In recent years, CAF has become a strategic partner of Paraguay, particularly the Ministry of Public Works and Communications, helping to boost its productivity with projects that allow connectivity improvements within the country and develop the main regional integration thoroughfares.
CAF currently has a total of 7 loan operations with this Ministry, totaling USD 1.184 billion: The project to build access roads to the Second International Bridge over the Paraná River, Country Roads and Bridges Program I for USD 50 million, Highway Integration Corridor Improvement Program I for USD 222.08 million, the National Route 9 Rehabilitation Program for USD 400 million, the Project to Enable Road Network II for USD 100 million, Country Roads and Bridges Program II for USD 100 million, and the Road Service Level Route Rehabilitation and Maintenance Program III for USD 100 million.