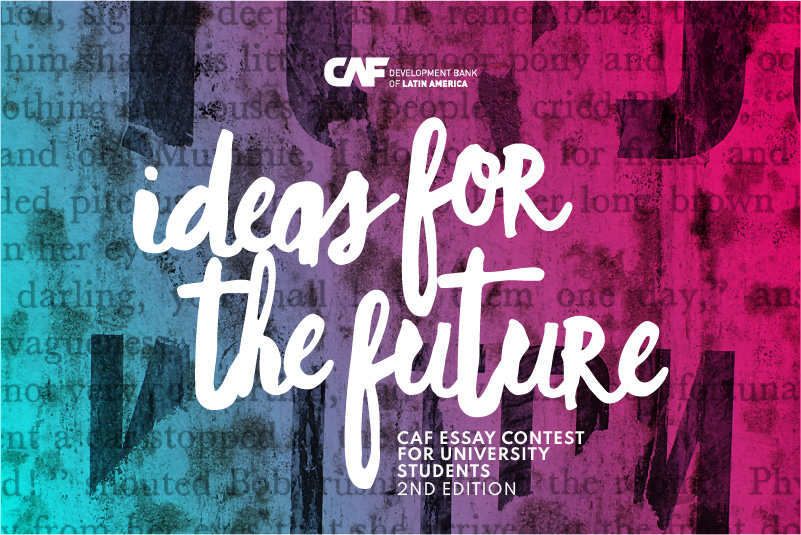 Registration for the "Ideas for the Future" university essay competition is now open
April 08, 2020
"Ideas for the future" is a university essay contest that CAF –Development Bank of Latin America- conducts annually in alliance with the Central Banks of the region to promote the debate among young people on key development topics in Latin America.
Registration for CAF's annual essay contest #IdeasForTheFuture is now open. The initiative aims to collect the vision of university students on key development challenges that Latin America and the Caribbean faces in the coming decades.
The contest, organized together with the Latin American countries Central Banks, encourages young university students between 18 and 29 years from CAF´s member countries to submit original essays on different areas of development.
These are some topics that could be addressed by the students, among many others: how to react to economic and / or health crises; how to escape the middle income trap; how to balance social agendas with economic stability; how to create mechanisms for the expression of social discontent; which areas of development need more attention; how to improve the competitiveness of SMEs.
The best essay at the national level and the three best essays at the Ibero-American level will be awarded. The winners of the Latin American level will present their essay at the CAF Conference in Latin America, which will be held in Mexico City in November 2020, and may receive the following awards:
Guillermo Perry Prize: USD 3,000
Second place: USD 2,000
Third place: USD 1,000
Essays must be submitted through the form enabled on the contest website, from April 1 to September 4. The ideasparaelfuturo@caf.com mailbox will be enabled for doubts and questions. The jury's decision will be announced through the contest website on October 1, 2020 for national winners, and on November 5 for Ibero-American winners.