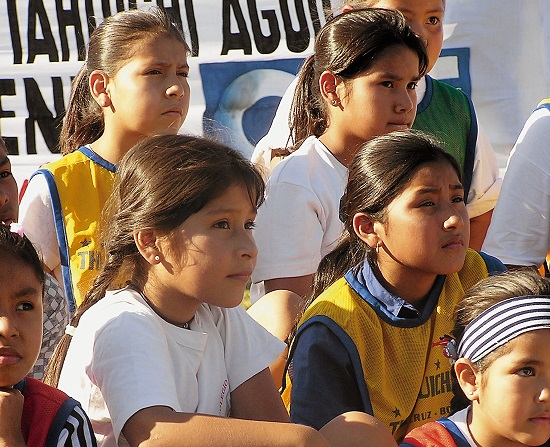 Community networks as a solution to connectivity gap
October 31, 2018
Latin America must do more to connect people and territories, mainly lower-income populations.
Latin America and the Caribbean is ranked at an intermediate level in digital ecosystem development, and challenges in this field affect all areas for expansion. According to CAF's Digital Ecosystem Development Index (IDED), as of 2017, the region has an average digitization level of 45.47 points, taking into account connectivity, digitization of production, digitization of households, production factors, digital industries, infrastructure, institutional and regulatory digitization, as well as level of competition. 
Low levels of broadband network investment seem to be the reason behind the region's low digitization. A quick comparison of annual per capita investments in Latin America (USD 42.83) compared to that of OECD countries (USD 140.88) shows the region's lag in this sector. There is a similar situation in terms of 4G coverage, home fiber optic penetration, fixed broadband speed and mobile broadband speed. 
The investment challenge related to the digital divide is not only economic (isolated rural areas) but also technological (gaps in state-of-the-art technologies), because a large part of the population is still neglected or use older technologies (ADSL for fixed broadband, 2G/3G for mobile broadband devices), even in urban centers.  
This situation highlights the need to improve connection of people and territories, especially lower-income populations. Therefore, progress in closing the connectivity gap at the sub-national level is essential, because one example of the situation is the connectivity gap in the education sector in rural areas in Latin American countries. Another aggravating factor is that rural and isolated areas are generally neglected by private sector investment plans and rely on public funds. 
For Latin America to deploy world-class infrastructures, it needs to work on the following three priorities:
Last mile in broadband networks: there is low capillarity of national backbone networks that only cover points of presence, large differences in quality of service between metropolitan centers and the rest of the territory, and a high cost of last mile networking in small towns. 
Ultrafast Broadband Networks: Only 6% of broadband lines are fiber optic and limited deployment affects quality of service (low download speed). 
Deployment of 5G networks: There is a regional lag in 5G deployment, and this technology is considered critical for the digitization of production and delivery of public services; it is also estimated that high investment is required to improve deployment (UK: USD 57 billion – Oughton and Frias, 2016; US: USD 640 billion – Katz, 2018). 
Although community networks are variable and depend on the context of each country and locality, there are multiple community network models and strategies from which lessons can be drawn on start-up, sustainability and scalability:
Start-up
They require initial capital financed by external funds or organizations.
Integration of transparency and accountability processes.
Roadmap for the community network vision according to the available and expected technical criteria and resources.
Efficient and sustainable business and organizational model.
Sustainability
Fund-raising (crowdfunding, donations, corporate social responsibility, among others).
Parallel mechanisms where locals can build, manage and offer services through the network.
Compensation to network employees with wages or labor incentives (food costs, transfer, lodging, training payments, etc.).
Affordable prices for services provided by the network. 


Scalability
Continuous training in important issues for the efficient and effective network operation, for the creation of a business model, revenue streams, and for the management of network services.
Expert technical advice to respond to inquiries on regulatory, infrastructure, ICT issues, among others.
Selecting suitable profiles from the new communities where the networks will be created.
Rural areas are decisive for countries' inclusive growth. In this sense, the support of the main stakeholders in the digital ecosystem is essential to create collective, socially produced and common resources such as community networks.
Given their importance for economic development, standard of living, national competitiveness and government effectiveness, smaller-scale telecommunications projects are a priority. Funding sources such as pool funding catalyze access to private financing for small projects. Similarly, it is appropriate to assess infrastructure projects to leverage the development of community network projects, together with regulatory policies that create an enabling environment for various issues where progress is needed and which would help bring these projects into fruition. In this sense, it is important to consider the allocation of radio spectrum, licenses or access to Universal Telecommunications Service funds, among others.
Emily Carrera y Mauricio Agudelo
recent entries from the author
There are no more posts by the author