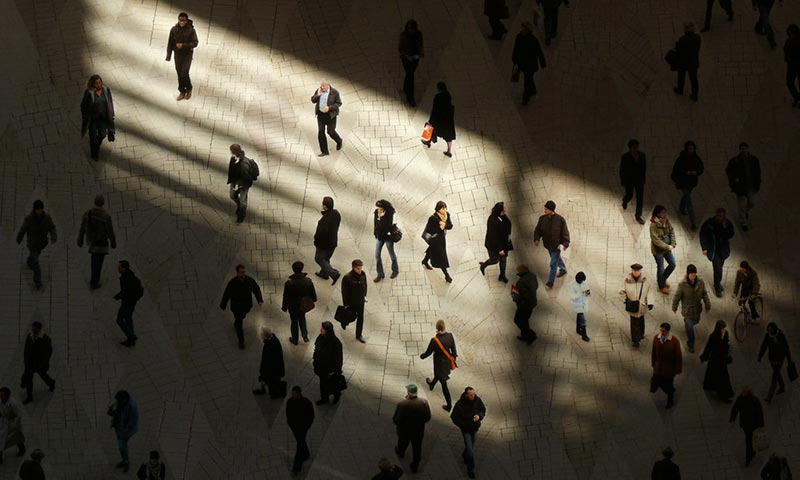 Digital government needs people, not more software
August 01, 2019
We need to update the skills and mindset of public officials so that they can optimize digital opportunities.
This article was originally published in Apolitical
Latin American countries have been implementing digital government strategies for approximately two decades now. 
These strategies have focused on simplifying and digitizing public services, as well as creating digital channels for citizens to interact with government and participate in setting the course for society.
At the same time, these strategies have brought greater efficiency in public administrations, citizens have been brought closer to governments, greater levels of transparency and citizen participation have been attained, and millions of citizens have been able to save time and money.
Governments face greater expectations from the "digital natives", who demand new forms of governance, with more agile, open and innovative states. #DigitalTransformation
However, many challenges remain in mainstreaming the digital transformation: we need to upgrade the skills and mindsets of civil servants so they can make the most of digital opportunities, but also manage the risks this digital revolution brings with it. 
At the same time, governments face greater expectations from the "digital natives" 21st century citizens, who demand new forms of governance, with more agile, open and innovative states.
e-government is like riding a bike
To determine the state-of-play of the digital transformation in Latin America, the Development Bank of Latin America (CAF) has commissioned an internal study of the digital talent in the region.
In this study that I supervised, we conclude that a key challenge for governments in their digital transformation journey is the lack of digital-savvy talent and the slow but necessary process of upgrading their knowledge on new technologies that are growing exponentially. 
Specialized human talent is needed to take advantage of these tools. For the private sector, the demand for these specialists is already tremendously difficult to satisfy — so just imagine how difficult this is for the public sector, where salaries are typically lower. 
Governments need knowledge and skills in other areas of expertise such as public innovation, data science, and big data analysis, among others. #DigitalTransformation
 But what kind of talent is required? Specialized ICT experts are no longer sufficient, as it was the case during the first generation of e-government reforms in the 1990's and early 2000's. 
Now government also needs knowledge and skills in other areas of expertise such as public innovation, data science and emerging technologies like the Internet of Things, blockchain, big data analytics, and artificial intelligence. 
To continue the transformation process, it's critical that public servants stay up to date on new technologies, develop their soft skills and get the opportunity to continuously learn and develop their skills. 
It is like riding a bike: you need to keep pedaling to avoid falling off or behind. 
We need political digital skills
Driving the digital transformation in the public sector not only requires technical digital skills. Political digital abilities are also in high demand. 
A lesson from Latin America is that it is no longer sufficient to invest in the digital skills of information technologies offices in public agencies; driving the digital transformation requires policymakers who are aware of the potential in data and digital solutions. 
Frontline civil servants and back-office support staff play a critical role in the transformation process to "make things happen" #Knowledge
Similarly, public officials from the sector ministries — such as health, education and security — and support services, such as public procurement or the civil service, also need to have a good understanding of these tools. 
Our experience in Latin America is that frontline civil servants and back-office support staff play a critical role in the transformation process to "make things happen". 
The challenge for governments
Governments also want to make things happen, but face two major challenges: upgrading digital skills and raising awareness among public servants through professional training and managing the specialized digital skills within the public sector. 
National schools of government traditionally have not invested in digital training but things are starting to change.
In Brazil, for example, the federal school of government is implementing an ambitious training program in digital transformation for civil servants through the Capacita Gov.BR initiative.
One of the main conclusions of the study is the lack of strategies and public policies to manage digital skills in Latin American countries. To address this challenge, Spain has created a professional cadre of tech experts in the public sector, with a predefined career path.
Three promising innovations
Public entities have to come up with innovative strategies to attract, retain and rotate the scarce digital talent. According to CAF, three promising avenues have been identified in the region:
Leverage

 

innovation labs

 

to improve services and generate innovative solutions to public problems. These

 

labs

 

provide meeting points between civil servants, citizens, entrepreneurs, tech companies and academia to promote public innovation.

In this way, these laboratories have become gateway mechanisms to attract specialized digital talent to work in the public sector.

Some experiences that we can highlight are the Laboratorio de Gobierno of Chile, the LABGobArof Argentina, the Gnova of Brazil and the LabX of Portugal.


Use awareness campaigns through mass media and social networks. A good example is the "IT Talent" initiative in Colombia: At a time when the interest of young people in studying STEM careers had diminished considerably, the Colombian government, in partnership with some public and private universities and information technology associations, launched an awareness campaign to attract young people to study IT careers.

In this campaign, they emphasized not only the job opportunities in the public sector, but also commitment to public service and the public good. Together with the investment made by the government in scholarships allowed the number of students enrolled in IT careers to increase dramatically.

For example, in the Systems and Computing Engineering Program of Universidad de los Andes, the number of students enrolled in the program increased from 330 students in 2013 to 814 in 2019.


Develop training agreements with universities, international agencies, and technology companies. According to the study commissioned by CAF, these agreements have allowed countries such as Costa Rica, Ecuador, Panama, and Peru to train public servants and motivate them to keep up-to-date and at the same time foster interest for citizens to begin a career in the civil service.
The path ahead
These initiatives cannot be undertaken in isolation. To succeed, governments need a comprehensive strategy, covering all aspects from the recruitment of new digital talent, upgrading existing digital talent, training of civil servants, as well as managing the existing tech experts working in government.
There must be a sound governance framework, with an entity that leads the digital talent strategy (which may be the same one that leads the digital agenda), and coordinated work with institutions responsible for public employment (typically the civil service commission) as well as those in charge of training public servants (typically, national schools of government).
#Knowledge Governments cannot invest in digital talent alone. They need to engage the various stakeholders of the digital ecosystem
Finally, governments cannot invest in digital talent alone. They need to engage the various stakeholders of the digital ecosystem (universities, tech companies) and create new forms of public-private partnerships to nurture digital talent in society. The governments of Latin America tend to be slow in their transformation processes. 
Investing in digital talent is the way to accelerate those processes. Having the right talent will allow our countries to take advantage of the benefits of new technologies and thus find innovative solutions to the old problems that affect our population. 
recent entries from the author
There are no more posts by the author