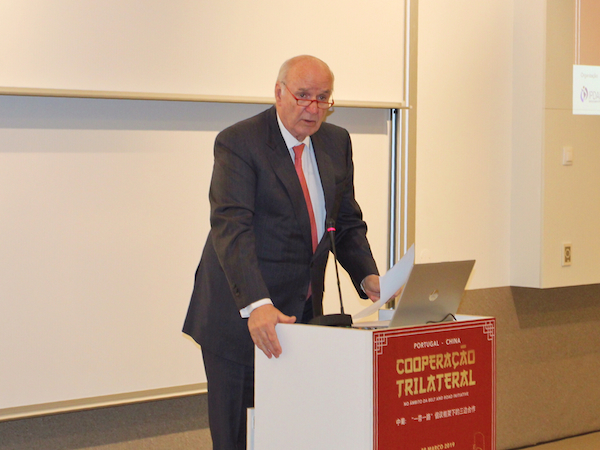 A unique opportunity for China and Latin America
Madrid, España,
April 04, 2019
CAF builds closer ties with Portuguese institutions and participates in cooperation meeting with China organized by IPDAL.
The representative of CAF—development bank of Latin America—in Europe, José Antonio García Belaunde, visited Portugal to strengthen ties with various financial institutions and to participate in the Portugal-China meeting: Trilateral cooperation on the New Silk Road.
García Belaunde held work meetings with Teresa Ribeiro, Secretary of State for Foreign Affairs and Cooperation, who expressed Portugal's interest in building closer ties between her country and CAF; with senior managers at SOFID (Financial Development Association) of which CAF is a shareholder; with members of the Planning, Strategy, Evaluation and International Relations department (GEPEARI) of Portugal's Ministry of Finance, an entity that has supported CAF in different missions; with directors of La Caixa General de Depósitos (CGD), a Portuguese public bank with presence in Brazil, Mexico and Venezuela; and Hélder Rosalino, Member of the Board of Directors of Banco de Portugal.
He also attended the Forum on Trilateral Cooperation on the New Silk Road.
In the forum, Garcia Belaunde explained that "China and Latin America have a unique opportunity to strengthen existing relationships and lay the groundwork for a structured, deep and long-term relationship in strategic areas for development." As noted by the CAF representative in Europe, "China's international expansion is changing the focus towards the services sector, which poses major challenges for the region."
"China has become one of the main trading partners of the region. In fact, for Argentina, Brazil, Chile, Colombia, Peru, Uruguay and Venezuela, it is already the first or second trading partner," said Belaunde. The exponential growth of Chinese investment in Latin America and trade between the two regions has led "the Asian country to have 2,000 companies in the region and, in recent decades, it has created more than 1.8 million jobs," said the CAF Europe Office director, who also highlighted Chinese funding operations.