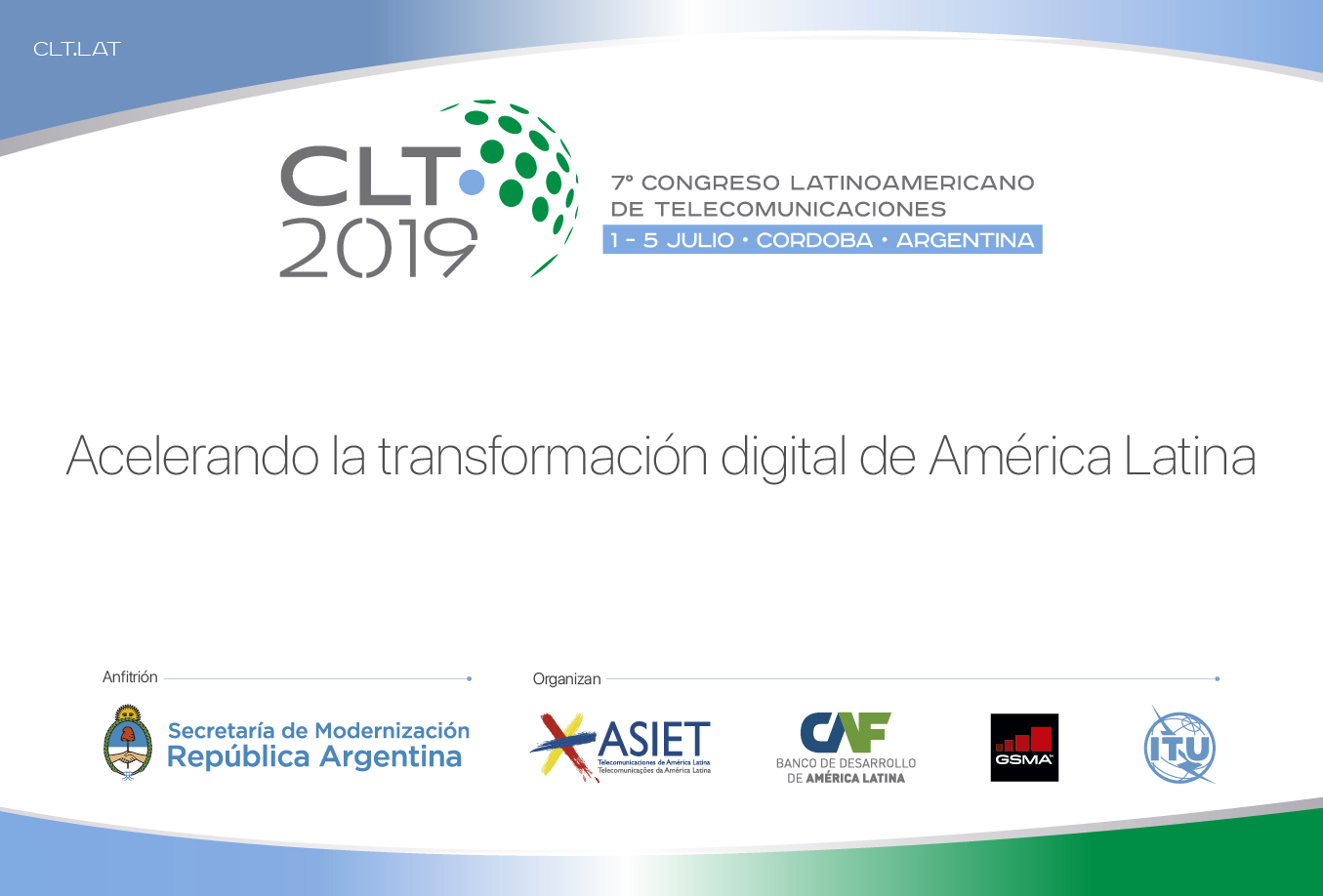 CLT19 will chart the path to digital transformation in Latin America with more than 20 activities
Mendoza, Argentina,
June 19, 2019
The 7th edition of the Latin American Telecommunications Congress will bring together more than 60 leaders, including notably ICT Ministers, regulators, executives, scholars and leaders of international organizations. Ajit Pai, President of the United States FCC, and his team, will share the progress made in digitization and 5G deployment.
Two weeks before the first edition to be held in Argentina, the 7th Latin American Telecommunications Congress already has more than 60 confirmed panelists for more than 20 activities on infrastructure deployment, innovation, regulation, competition, transparency, coverage, universal service funds, digitization, industry 4.0 and security, among other strategic issues. The forum will allow participants to share experiences and promote discussion between public and private sector leaders to drive policies to close the digital divide and boost digital transformation in Latin America.
In recent years, significant strides have been made in both internet coverage and access in Latin America and the Caribbean. However, according to the International Telecommunication Union (ITU), 279 million people have no access to this service. We need to rethink key variables such as the management and provision of essential resources such as radio spectrum, the design and use of universalization funds, and to come up with new mechanisms that leverage investment in remote areas and where deployment and access costs still make low-income household connectivity unfeasible. These topics will set the keynote for the discussions that will chart the path forward towards digitization in Latin America.
Confirmed government delegations include Argentina, Brazil, Colombia, Chile, Cuba and Paraguay, in addition to leaders of regulatory bodies from 8 countries and executives from the main companies in the industry. In a key year for the future of 5G due to the upcoming World Radiocommunication Conference (WRC-19), CLT19 will feature international guests, including Ajit Pai, Chairman of the United States Federal Communications Commission (FCC), and Grace Koh, Head of Delegation and Representative of the United States to WRC-19. The event will also feature Chaesub Lee, Director of the ITU Standardization Office, and Roberto Sánchez, Spain's Director General of Telecommunications. These guests join a remarkable roster of regional leaders, including:
Andrés Ibarra, Secretary of Modernization and Deputy Chief of Cabinet of Ministers, Argentina
Héctor Huici, Secretary of Information and Communications Technologies, Argentina
Silvana Giudici, President of the National Communications Agency, ENACOM, Argentina
Vitor Menezes, Telecommunications Secretary, Brazil
Luciano de Freitas, Regulatory Specialist, National Telecommunications Agency, ANATEL, Brazil
Pamela Gidi, Under-Secretary of Telecommunications, Chile
Iván Mantilla, Deputy Minister of Connectivity and Digitization at MINTIC, Colombia
Carlos Lugo Silva, Executive Director of the Communications Regulatory Commission, CRC, Colombia Gilbert Camacho, Member of the Telecommunications Superintendence Council, SUTEL, Costa Rica
Ana Julia Marine Lopez, Deputy Minister of Communications, Cuba
Ramiro Camacho and Mario Fromow, Commissioners, Federal Telecommunications Institute, IFT, Mexico
Alejandro Peralta, Minister of Information and Communication Technologies, Paraguay
Nelson Guillén, President of the Dominican Telecommunications Institute, Indotel, Dominican Republic
Other participants include:
Daniel Bernal, Deputy Director of Regulatory Affairs, América Móvil
Manuel Abelleyra,President of DirecTV Latin America
Rachel Samrén, VP - Director of External Affairs, Millicom
Robert Pepper, Head of Technology and Global Connectivity Policy, Facebook
María Cristina García de Miguel, Resource Manager, orbit spectrum and regulation, Hispasat
Carlos Moltini, CEO, Telecom Argentina
Federico Rava, President of Telefónica Argentina
Sebastian Nieto Parra, Head of the Latin America and the Caribbean Unit, Development Center, OECD
Farah Diva Urrutia, Secretary of Multidimensional Security, OAS
María Elena Estavillo, Former Commissioner of the Federal Telecommunications Institute, IFT, Mexico.
View list of confirmed panelists 
The event will be held on July 1 to 5 at the Brigadier General Juan Bautista Bustos Convention Center in Córdoba, with an expected attendance of more than 400 participants. The debate will take place in different formats: a plenary session with panels, flash sessions, keynotes and fire-side chats, in addition to the CPR LATAM academic meeting, the Board of Directors of the Central American Regional Technical Telecommunications Commission (COMTELCA), the ITU Forum on Radio Spectrum Management, and different workshops on universal service funds, piracy, IoT and security, internet governance and 5G.
CLT19 is organized by ITU, CAF–development bank of Latin America–, the Inter-American Association of Telecommunications Companies (ASIET) and the GSMA, with Argentina's Secretariat of Modernization as host. It is sponsored by the Government of Córdoba and ENACOM, together with organizations such as COMTELCA, Regulatel, ECLAC-eLAC, ICANN, Internet Society and LACNIC.
Links to the sign-up forms and the updated agenda and parallel events are available on the CLT19 website.