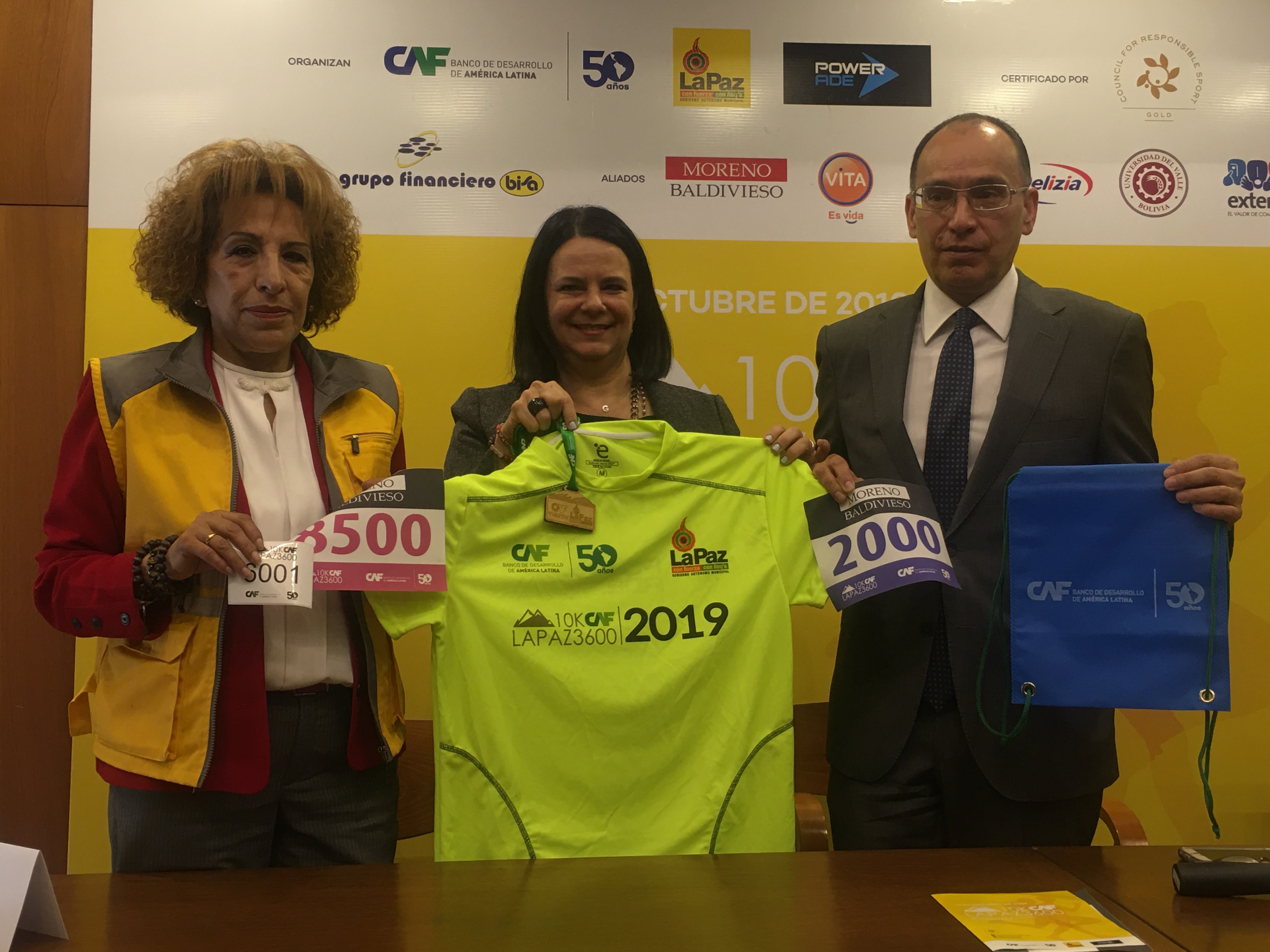 La Paz 3600 10K official t-shirt presented
La Paz / Bolivia,
September 26, 2019
The organizers of the La Paz 3600 10K race presented this year's official t-shirt and the event schedule.
A few days before the La Paz 3600 10K race, CAF—development bank of Latin America—, together with the Sports Directorate of the Municipal Autonomous Government of La Paz (GAMLP), Powerade and the BISA Financial Group as the main sponsors, presented the new official t-shirt for the 11th edition of this iconic La Paz race, which this year also marks the 50th anniversary of CAF promoting sustainable growth and regional integration.   
According to official race information, the roads selected for the course will be closed between 7:00 a.m. and 10:30 a.m. on Sunday, October 13, in order to ensure the safety of the runners, and will be re-opened as the race comes to an end.
As in previous editions, the race starting point will be the Villarroel Square in Miraflores at 8:00 a.m. Runners will then head onto Busch Ave. to Pasoskamki corner, turn onto Posnansky Street to Illimani Ave., connecting through Fray José Velasco, Bueno, Juan de la Riva and Mercado streets, through the City Hall gates, and then head to 16 de Julio Ave., along Paseo del Prado all the way to Plaza del Estudiante and through the 6 de Agosto tunnel, until Aspiazu corner, along Ecuador and Belisario Salinas streets to reach España Square, continuing onto Ricardo Mujia Street, where they will turn to head back to España Square and run down through Presbítero Medina and Sánchez Lima streets, to Abaroa Square and then to Isabel la Católica Square, where the course crosses the Las Americas Bridge, along Litoral street, to reach Triangular Square and head onto Villalobos Street to connect with René Zabaleta Street, with the finish line at Independencia Bridge.
Security and services
As in previous years, security measures will be in place along the 10-kilometer course, as well as many special surprises and music shows to liven up the event. "We will have music shows at most kilometer marks. A rock band will perform at the CAF kilometer mark, we will have more DJs along the course and a big party at the finish line. We want all athletes to feel encouraged and to pump up the energy during the race. We want it to be a party for all," said Gladis Genua, CAF representative in Bolivia.
Facilities at the starting point will include lockers, restrooms, a green spot—for solid waste—and first aid services. The finish line will include a podium, a hydration station, a kiosk where runners can claim their bags and participation medals, restrooms, physical therapy and first aid services, as well as music shows.
"Security is one of our priorities and, as every year, we will have police protection. For this edition, we will have more than 300 police officers along the course, as well as first aid medical staff, with the support of the fire department," she added.
According to the organizers, these and many other measures, such as gender inclusion, carbon and water footprint calculation, will make the La Paz 3600 10K race the only sporting event in the country to receive the international certification granted by the Council for Responsible Sport. In addition, since 2017, the race has been included in the Gold category, and thus, the Gold Inspire certification will be awarded, thanks to the favorable social impact generated by the race.
Environmentally friendly t-shirts and medals
At the official t-shirt presentation, Gladis Genua explained that the race gear and medals were manufactured by local SMEs with recycled materials in accordance with the race's certification, which has been accredited due to its commitment to environmental protection.
Also the amount of plastic and paper for flyers and posters will be reduced this year. "For example, this year there will be no giant posters. And we are reusing posters from previous years to produce trash cans at hydration stations. And as in previous editions, the t-shirts and medals are made of recycled materials, and this year the predominant color on the runners' apparel is yellow," Genua said.
She explained that the La Paz 3600 10K race t-shirt design changes every year, with different hues of yellow, green, red and orange. Similarly, Genua explained that the motivations and slogans of the race have also changed throughout the years: for the first editions, between 2009 and 2012, the race was promoted with the motto "Work Out"; in 2013, it was "Run for Water;" in 2014, "Run for a Heart;" in 2015, "Against all Forms of Violence;" in 2016, "I run for a Wonderful La Paz;" in 2017, "One Runner, One Tree;" and finally, last year's race celebrated the nomination of La Paz as Ibero-American Cultural Capital.
This year's race celebrates CAF's 50 years promoting sustainable development and regional integration. More than 10,000 runners from all over Bolivia and abroad are expected to participate, with a large number of city residents joining as spectators, encouraging runners along the course.
Runners' Fair
T-shirts will be handed over personally, by presenting their identity card, to the first 6,000 registered participants who visit the Runners' Fair, to be held on October 11-12 at the CAF facilities in San Jorge. Registered athletes will have a chance to visit stands of renowned sports brands and institutions, and will receive their number and a voucher for locker service on race day, October 13. It should be noted that registration is free of charge.
"We open the fair for people or institutions that wish to get exposure. This year we will have the Rainbow Foundation and other non-profit organizations working in favor of vulnerable sectors, in order to help residents learn about and encourage these social initiatives, as well as many other stands with countless offers for runners," Genua explained.
The initiative is organized by CAF together with the Municipal Government of La Paz and Powerade. The main sponsor is BISA Financial Group, and Moreno Baldivieso and VITA Laboratories as additional partners, with the support of Delizia, Universidad del Valle (Univalle) and Extend Comunicaciones Bolivia. 
For more information, visit the website: http://www.10klapaz3600.com.bo, Facebook: Carrera La Paz 3600 10K; Twitter: @Lapaz360010k; Instagram: @lapaz360010k