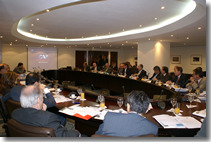 US$1.32 billion for operations in Bolivia, Brazil, Colombia, Costa Rica, Ecuador and Peru
July 09, 2007
US$400 million for Peruvian Social Investment Program
US$200 million to improve potable water and basic sanitation services in Ecuador
For Colombia US$145 million for development infrastructure.
US$70 million for road infrastructure for Bolivia
US$100 million to strengthen Costa Rican electricity sector
US$400 million for Brazilian banks
(Caracas, July 9, 2007).- The Andean Development Corporation today approved operations for US$1.32 billion for the benefit of Bolivia, Brazil, Colombia, Costa Rica, Ecuador and Peru.
CAF President & CEO Enrique García explained that the operations followed the priorities of each country and were consistent with the integrated development agenda proposed by the multilateral financial organization which pursues three fundamental objectives: macroeconomic stability, microeconomic efficiency and social equity. On this occasion, the approvals are precisely targeted to address needs in these areas.
For Bolivia, CAF approved US$70 million to partially finance execution of the "Y de la Integracion" Road Program to be executed by Administradora Boliviana de Carreteras (ABC). The program aims to improve and expand Bolivian road infrastructure to promote and create incentives for national and international physical integration, which is part of the Bolivian government's economic and social development strategy.
Brazil benefited with approvals of US$400 million to increase lines of credit by US$200 million in favor of Banco Do Brasil and US$200 million for Banco Itaú S.A./Itaú BBA S.A. These credits are intended to promote foreign trade, working capital and investment by companies in low-risk sectors with high value added.
For Colombia, the multilateral development bank approved US$145 million to improve infrastructure for competitiveness through support for construction of the final sector of the Bogota-Puerto de Buenaventura Road Corridor from the locality of Boga to the port. The work is being executed by National Roads Institute (INVIAS). Since this is one of the most depressed areas of the country, which explains to some extent the high crime rate, the Corporation has been granting non-reimbursable funds through the CAF Social Responsibility Programs to develop human capital by means of training and education in values for 2,000 young people in Buenaventura. Costa Rica is the fourth country to benefit from the approvals, receiving a US$10-million loan in favor of Instituto Costarricense de Electricidad (ICE), a state utility which manages a strategic sector for national development. Its basic responsibilities are to exploit hydroelectric power and provide communications services based on advanced technology. The program approved provides financial support for development and execution of the company's investment plans in the electricity sector.
Ecuador received a US$200-million loan from the Corporation to partially finance the Program for Environmental Sanitation for Community Development (Promadec) to be executed by Banco del Estado (BEDE) in coordination with the Ministry of Urban Development and Housing (Miduvi). These bodies will channel funds to municipalities for execution of projects related to the program's primary objective which is to improve the quality of life and health conditions of 1,800,000 people.
Finally, the approvals in favor of Peru totaling US$400 million will support the Program of Social and Infrastructure Investments Against Poverty, sectoral social plan executed by the government. As Enrique Garcia said "the idea is to contribute to the government policy of reducing extreme poverty with an approach based on integrated human development under the concept of territoriality, as part of the gradual process of regional decentralization."