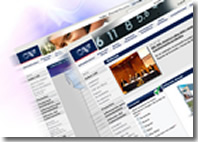 CAF launches new Internet portal
August 20, 2007
The virtual address
www.caf.com
now has a new design and content and navigation structure facilitating the search for information for the 45,000 users who visit the site each month.
(Caracas, August 20, 2007).- The Andean Development Corporation announced the launch of its new Internet portal
www.caf.com
which redefines the previous architecture. This is definitely good news for the approximately 45,000 users who visit this portal each month in search of information of interest. The change goes beyond a simple updating of design and programming technologies. The aim is to offer a website with outstanding content, organization and presentation, which is attractive and useful to its target audiences, which reflects the transparency that characterizes the Corporation's management and operations, where visitors can rapidly evaluate content, obtain the information they need and experience friendly internal navigation. This ambitious project and the decisions that it involved were based on a benchmarking survey which compared the new CAF portal with those of other multilateral financial organizations, combined with market research and a careful study of the site. The project was developed throughout with the support and advice of the consulting firms: Contenido Inteligente, Mijao, 72DPI, Condo Consulting and Tendencias Digitales. The result: the new website
www.caf.com
. A portal which gives visitors a comprehensive view of the many areas in which CAF is working in favor of regional integration and sustainable development in Latin America.