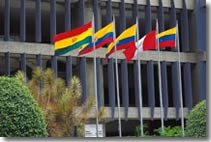 CAF President visits Ecuador
May 26, 2008
Enrique García, CAF president & CEO, will visit Ecuador on May 27 and 28 to take part in the International Meeting for Competitiveness and improvement of the Business Climate
(Quito, May 26. 2008).-
Enrique García
, president & CEO of the Andean Development Corporation will visit Ecuador on May 27 and 28 to participate in the
International Meeting for Competitiveness and improvement of the Business Climate
to be held in Quito. García also had personal meetings with the management of national and local public entities.
The CAF president emphasized the importance of the International Meeting, which will open a space for reflection and debate on improving the business climate in the region, particularly in Ecuador. He said that CAF was promoting the strengthening of competitive capacity as a key factor for sustainable development and Latin American integration.
The holding of this event is one of the actions being taken by the Competitiveness Support Program (PAC), through which CAF provides technical and financial assistance for the joint work of governments, companies and members of the academic sector, in an effort to stimulate competitive advantages in the region.