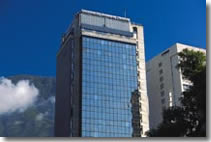 CAF announces international contest for creation of new flag
August 20, 2008
The multilateral organization today opens an international contest for designers, plastic artists, architects and related occupations from its 17 shareholder countries.
Registration deadline is September 15
(Caracas, August 20, 2008).- CAF today announced the opening of an International Contest for Creation of a New Flag. The registration deadline is September 15 this year, and the deadline for sending entries is October 31, 2008.
The new flag which will identify CAF must reflect the organization's Latin American and Caribbean dimension, as well as its commitment to regional integration and sustainable development which is part of its mission, and the Integrated Development Agenda which the financial institution promotes in favor of its shareholder countries.
The work selected will be published on the CAF webpage by November 28, 2008 at the latest. The author of the selected work will receive a prize of US$5,000.
All natural persons or legal entities are invited to participate in this international contest, whose professions, or those of their members, are architecture, design, plastic arts or related areas from the 17 CAF shareholder countries: Argentina, Bolivia, Brazil, Costa Rica, Colombia, Chile, Dominican Republic, Ecuador, Jamaica, Mexico, Panama, Paraguay, Peru, Spain, Trinidad & Tobago, Uruguay and Venezuela.
The contest conditions are available in the "Bulletin Board" section of the CAF webpage: www.caf.com.
Summary Table of Key Dates
| | |
| --- | --- |
| Event | Deadline |
| 01. Opening | From August 20, 2008 |
| 02. Registration | September 15, 2008 |
| 03. Questions | September 29, 2008 |
| 04. Submission of entries | October 31, 2008 |
| 05. Jury decision | November 28, 2008 |
| 06. Publication of results | November 28, 2008 |
The e-mail for questions and for registering in the contest is banderacaf@caf.com