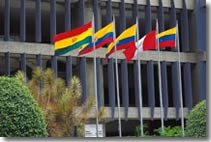 USD 50 million for financing social development projects in Antioquia
September 15, 2008
CAF has approved a loan to the Antioquia Development Institute (IDEA) for the "Social Development Projects Funding Program."
(Bogotá, September 15, 2008). Corporación Andina de Fomento
(CAF) has approved a USD 50 million loan to the Antioquia Development Institute (IDEA)
earmarked for supporting execution of the
"Social Development Projects Funding Program"
being implemented in Antioquia.
The approved funds are intended for financing projects in basic sanitation, rural development, urban development and improvement of the habitat, and the expansion of health and education services and secondary and tertiary roads, among other sectors.
IDEA will be in charge of performing the technical and economic evaluation and also of verifying compliance with the environmental requirements applicable to the projects financed under the Program, which will be performed by territorial agencies and public utilities in Antioquia with supervision and monitoring by IDEA. Enrique García, CAF president and CEO, explained that "with this funding for IDEA, investments will be made that will improve the quality of life of urban and rural populations in the Department of Antioquia through projects in a number of social sectors." García added that "this operation of a loan without sovereign guarantee to a territorial development financial institution shows CAF's flexibility in catering to the needs of the Corporation's shareholder countries."
The "Social Development Projects Funding Program" is a novel initiative by IDEA, whose investments will be executed in three years. This is the Institute's first foreign loan, which will allow it to improve its balance sheet structure, diversify its funding sources, and increase its development operations in the Department of Antioquia.