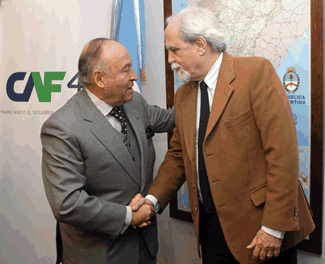 CAF Southern Integration Efforts
August 02, 2010
CAF and Mercosur signed a memorandum of understanding in the context of the latest Mercosur Summit. In addition, non-reimbursable funds were delivered to CEPES in Argentina for a project that seeks to reinforce links between Argentina and Uruguay
(Buenos Aires, 2 August 2010).- In the context of the Mercosur Summit, currently taking place in Argentina, CAF executive president Enrique García signed a Memorandum of Understanding with the foreign affairs ministers of Mercosur countries to explore joint programs and reinforce the synergy between the two institutions, in order to foster development, reduce poverty and promote more equitable societies in the region.
"For CAF, exploring cooperation mechanisms with blocs such as Mercosur is an essential task," explained Enrique García, "as it facilitates capacity-building and leveraging of opportunities that lead to human development projects, thus improving living standards, strengthening the region's social and productive structures and promoting public policies that foster social inclusion."
The areas defined for the joint work include infrastructure for integration, productive integration and development of competitiveness, sustainable human development and social cohesion, border integration and institutional strengthening, among others.
In addition, in the interest of coordinating actions with other regional agencies, the executive president of CAF also met with UNASUR Secretary-General Nestor Kirchner with a view to identifying more effective ways to tackle priority issues for Latin American countries, particularly related to integration, energy and social infrastructure agendas. They also pledged to implement the UNASUR-Haiti fund as soon as practical.
Funds for border projects
CAF allocated funds for the Center for Political, Economic and Social Studies (CEPES), with the aim of analyzing binational issues between Argentina and Uruguay and developing public policy proposals to help reinforce the links between the two countries, with particular emphasis on border areas.
In this vein, the project will produce a comprehensive and up-to-date analysis of Argentine-Uruguayan relations, pinpointing the challenges and potentials for strengthening integration between the two countries and defining proposals and recommendations to improve border integration.
Furthermore, García noted: "These funds are used in the framework of the Border Development and Integration Support Program (PADIF), a CAF initiative that aims to promote and support a binational strategic agenda between these two countries, hence this strong support to border issues between the two nations."
Through PADIF, our institution is advancing more than 25 initiatives for the design and implementation of Binational Plans for Border Development and Integration and the creation of Border Integration Zones (ZIFs), as well as sub-regional policies for the countries of UNASUR, the Andean Community (CAN) and Mercosur.
These initiatives boast non-reimbursable technical cooperation funds from the Border Cooperation and Integration Fund (COPIF), established in 2008 to support the timely identification, preparation and implementation of high-impact projects to promote sustainable human development in the border regions of CAF member countries, and to help strengthen cooperation, dialogue, mutual trust and border integration in bilateral and multilateral contexts.