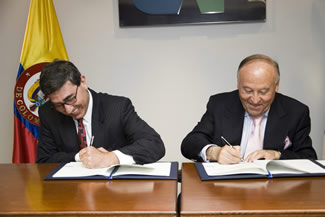 Agreement signed with Fedesarrollo for joint research on regional sustainable development
June 03, 2011
The two institutions will focus their efforts on promoting academic programs and applied research initiatives in favor of the development and integration of Latin America.
(Bogotá, June 3, 2011).- To support training, applied research and studies in favor of the sustainable development and integration of Latin America, the heads of CAF - Latin American development bank - and Fedesarrollo signed an agreement that for joint activities with academics and public policymakers.
"Through this agreement we intend to combine efforts to generate knowledge on the region, contributing to decision making and implementation of policies and actions to improve competitiveness and Latin American integration," CAF President & CEO Enrique García said after signing the agreement.
The cooperation agreement, signed during the CAF president's visit to Colombia, provides for exchange of information, organization of events, and joint research and publications, among others items.
"We will now be able to continue contributing to policymaking with rigorous independent analysis to support the development of the country, an area that CAF understands deeply," Roberto Steiner, executive director of Fedesarrollo, said.
CAF and Fedesarrollo are currently making headway with research to measure trends and effects related to the country's economic growth. The first results of the analysis are expected to be presented in July.
The Foundation for Higher Education and Development (Fedesarrollo) was set up in 1970; since then it has worked on introducing quantitative tools which have deepened knowledge of the structure and working of the Colombian economy.