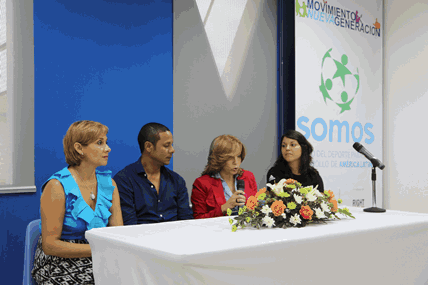 Panama joins SOMOS: Sports Network for the Development of Latin America
(Panama, November 13, 2013). CAF, Development Bank of Latin America, through the Somos program, in alliance with Right To play International, with the support of the Norberto Odebrecht Construction Company through theCinta CosteraProject (Coastal Belt Project), and the Movimiento Nueva Generación(New Generation Movement) start an initiative to provide training in sports culture and healthy life, aimed at more than 40 sports trainers, under the Right to Play methodology.
Somos, Sports Network for the Development of Latin America, is an initiative that considers sports as a tool for the comprehensive training of human beings, and as an effective mechanism for the prevention of social risks and the promotion of greater inclusion in the region, especially among children between 6 and 12 years old.
In Panama, this program will include close to 1,200 children and adolescents that belong to the communities of El Chorrillo, San Miguelito, La Chorrera and Tocumen. The Somos Program will last for three years, and during this period it will focus on strengthening the development and skills for life provided by sports practices.
The Right To Play methodology is implemented through the Futbol para el Desarrollo(Soccer for Development), Balón Rojo (Red Ball), Juegos para la Salud(Games for Health) and Formación en Equipo(Team Building) Programs, through which different holistic technical sports aspects will be developed, addressing the intellectual, emotional, and social areas of child and adolescent development. In addition, competitive skills will be promoted, and methods for the prevention of diseases will be identified, in order to promote sports culture and healthy life.
The objective of the Somos network, with the participation of Bolivia, Colombia, Brazil, Ecuador, Peru, Venezuela and Panama, is to continue promoting and expanding the creation of a platform that promotes the impact of sports as a tool for development and social inclusion throughout the region.