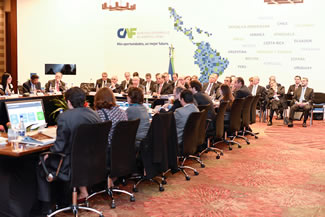 CAF to finance study to widen access to broadband services in the region
March 18, 2014
The objective is to roll out the South American Connectivity Network to the member countries of UNASUR.
(Colombia, March 18, 2014).CAF -development bank of Latin America - announced that it will finance, with non-refundable resources, the study of the rollout of the South American Connectivity Network being carried out by UNASUR.
The network will increase regional integration with respect to communications networks, will improve the capacity and extension of backbone infrastructure; will increase access to broadband internet for the digital inclusion of households, SME's and microbusinesses; will reduce costs for broadband service; will allow for a greater and better bandwidth; and will increase the generation and attraction of digital content in the region.
The study supported by CAF includes a socio-demographic analysis of each one of the countries and a technical analysis of the existing and planned infrastructure over the next five years, as well as the economic and financial feasibility of the project.
The Union of South American Nations (UNASUR) is an international organization created in 2008 to drive regional integration in the fields of energy, education, health, environment, infrastructure, security and democracy. Its efforts are aimed at deepening the union among the South American nations, under the recognition of their regional objectives, social strengths and energy resources.