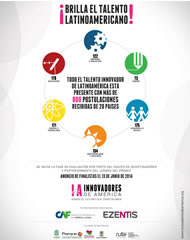 Innovators of America Closes the Nomination Period for the Second Edition of its Awards
March 19, 2014
Dominican Republic - Innovators of America, a venture spearheaded by CAF-development bank of Latin America-and Grupo Ezentis S.A., has announced that the window to submit applications for the organization's second awards ceremony, honoring Latin American innovation and creativity, has now closed.
After opening on December 10 and with an extended deadline closing March 16, the organization invited those from Latin America's entrepreneurial community to suggest winners, with a total of 846 nominations received through www.innovadoresdeamerica.org.
Candidates in six categories will win USD50,000 in prizes, along with an additional USD10,000 from Ruta N, a company that promotes the development of innovative businesses. The latter will besubject to criteria stipulated by the institution.
The category for Social Development received the most nominations at 175, followed by Science and Technology and Education with 171 and 170, respectively.
Sustainability and Ecology saw 135, while Business and Industry trailed with 122, followed by Design at 73.
Going forward, the Research Team will evaluate the nominations, (http://premio.innovadoresdeamerica.org/icms/es/2013/investigadores/), along with the Jury, (http://premio.innovadoresdeamerica.org/icms/es/2013/jurados/), which will announce the finalists on June 13.
About Innovators of America
Innovators of America, the award, whichpromotes innovation across Latin America, serves as a platform for the exchange of knowledge and opportunities involving multiple players, including academic institutions and private and public-sector organizations, cultivating a vast network of partners who are working to create a new development model in our region.
The award recognizes the most outstanding Latin American innovative efforts in six (6) categories: Social Development, Education, Design, Business and Industry, Sustainability and Ecology and finally, Science and Technology. Winners will receive Innovators of America statuettes and USD50,000 on Aug. 21 in Medellín, Colombia.