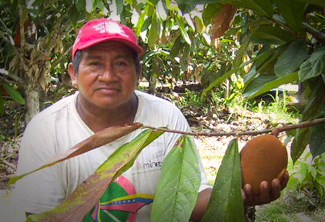 Fifty-nine producers of Copoazu develop harvesting skills
The Piaroas increased the positioning of pulp in the Puerto Ayacucho markets and improved the organizational level in surrounding communities through a technical cooperation.
Productive best practices under an agro-ecologic scheme allowed 59 producers of Copoazu to develop local capacities in order to harvest, package, and store fruit pulp, which led to greater incomes, lower on-site losses, and an increase in market penetration through a technical cooperation, "Apoyo a los productores Piaroas de Bareehua (Copoazu) Theobroma grandiflorum del rio Sipapo" (Support for the producers of Piaroas de Bareehua (Copoazu) Theobroma grandiflorum from the Sipapo River), in the Amazonas state in Venezuela.
The project started with 47 producers, and concluded with 59. It generated 47 direct jobs and 235 indirect jobs. One of the significant achievements is the increase in availability of pulp and dry seeds, which have allowed the Piaroas to establish 12 small processing plants of Copoazu to remove the pulp from the fruit, increase storage capacity, and increase the availability of products in the local market.
Since its beginning in 2012, it promoted recognition in the communities, leadership of the region's producers, consumer acceptance of frozen pulp in polyethylene bags, and of toasted grains for the consumption of the copolate industry (related to the chocolate industry) in Puerto Ayacucho.
Some of the project's future challenges are optimizing the Copoazu seed drying and freezing of the pulp processes based on the volumes produced, through a technical evaluation, evaluating the need and feasibility of the transfer of techniques and technologies for the production of copolate in Puerto Ayacucho, improving the connection between products and the local market, keeping an agro-ecologic scheme, and using eco-labels that describe the characteristics of the product and provide information regarding its positive qualities.
The Copoazu is a tropical fruit tree found in the wilderness of the Amazon Basin in Bolivia, Brazil, Colombia, Ecuador, Peru, and Venezuela. The pulp from its fruit is industrialized and commercialized. The seed is used to manufacture copolate, and the skin is used as organic fertilizer.
The initiative financed by CAF, Development Bank of Latin America, for USD 172,680, was carried out by the by the Fundacion para el Desarrollo de las Ciencias Fisicas, Matematicas y Naturales (FUDECI, for its Spanish acronym) (Foundation for the Development of Physical, Mathematical, and Natural Sciences) and was executed by the Estacion Experimental Amazonas (EEA, for its Spanish acronym) (Amazon Experimental Station).