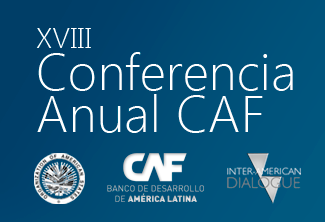 Opinion Leaders Will Discuss Key Issues Regarding Latin America
July 21, 2014
CAF's Annual Conference brings together more than 1,000 high ranking officials from governments and international organizations, entrepreneurs, investors, journalists, analysts, and representatives of organizations of the civil society from the region and the United States
This is CAF's most important international event, which has been established as a key meeting to discuss subjects regarding Latin America in Washington D.C. Each year it brings together more than 1,000 opinion leaders, high ranking officials from governments and international organizations, entrepreneurs, investors, journalists, analysts, and representatives of organizations of the civil society from the region and the United States.
This year's program will address the evolution and prospects of the main regional and global issues in detail, such as; recent elections and political developments; the economic prospects of the region; the hemispheric challenges 20 years after the First Summit of the Americas; changes in the energy matrix and its impact on Latin America; social innovation in the global South; emergence of women as influential decision makers in Latin America; and the challenges of Cuba and Haiti toward the future, among others.
The main speakers will include former President of Mexico Felipe Calderon and the Prime Minister of Hait Laurent Lamothe, as well as a select group of 50 panelists.
For more information regarding previous editions see: