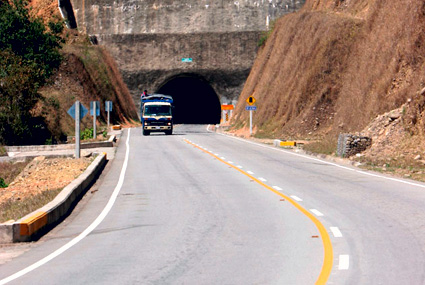 Design of Safer Highways in Bolivia
The "Design of Safer Highways" initiative promoted the use of best practices in planning, future planning, evaluation, construction, and maintenance of the country's road infrastructure
CAF -Development Bank of Latin America- carried out a training workshop called Design of SaferHighways, so that the institutions of the Transportation sector in Bolivia may gain knowledge regarding best international road safety practices and may apply their knowledge in the design and construction of road infrastructures.
The objective of the workshop was to establish the importance of having an adequate geometric design and its impact on road safety. Protection measures to be implemented in one road were analyzed, and the impacts on the most dangerous tranches. In addition, the subject of protection measures was addressed for vulnerable users, and the workshop closed with an analysis of the concepts of road safety audits.
The course was instructed by Michael Drezner, Executive Vice-President of the International Road Federation (IRF), considered one of the greatest experts on the subject worldwide. The course included the participation of officials from institutions of the transportation sector and professionals responsible for planning, future planning, evaluating, building, and maintaining the country's rural, urban, and inter-urban road infrastructure.
Emilio Uquillas, CAF's Director Representative in Bolivia, stated that "For CAF it is very important to not only provide financing for the construction of roads, but also safeguard the quality of the roads throughout their useful life. An important component of the quality of a road is the safety it provides to preserve the most important thing that countries have: their human resources".
Uquillas added that evidence shows that the reduction of road accidents is achieved through improvements in the infrastructure. CAF took the initiative and designed a workshop framed in its strategies and actions "aiming at the institutional strengthening of the public entities and institutions of the transportations sector in Bolivia in the use of best road safety practices".