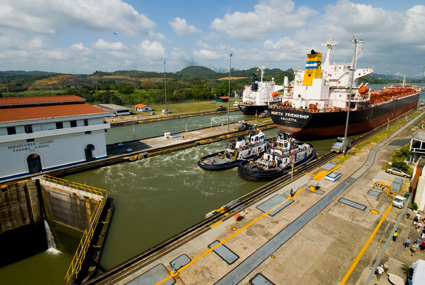 One hundred years of open doors to the world
/media/24097/imagen-eventos-caf.jpg
A century later, under Panamanian administration since 2000, the canal continues to provide services to international maritime trade and develops the expansion project with the construction of a third set of locks
CAF, Development Bank of Latin America, supports the canal and is part of the multilateral organizations that would finance the expansion project, contributing USD 400 million to the Administration of the Panama Canal. CAF's President, Enrique Garcia, has pointed out that this "is an emblematic project not only for Panama, but also for all of Latin America".
To date, the expansion of the canal has generated close to 28,000 new jobs and has served as a driver for the commercial movement of the rental of heavy equipment industry. In addition, as it is a mega work of world interest, tourism is Panama has increased in the past few months, leading to profits for the country.
The expansion, whose completion is foreseen for the beginning of 2016, will enable the traffic of Pospanamx ships, which currently cannot use the canal because of their magnitude. In addition, it will increase the operating capacity of the canal by 100 percent, and will create new business opportunities.