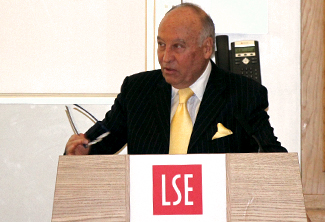 The LSE honors Enrique Garcia as Visiting Professor in Practice in its International Relations Department
Enrique Garcia, Executive President of CAF, Development Bank of Latin America, has been honored as Visiting Professor in Practice by the Department of International Relations at the London School of Economics (LSE), a title granted for the first time by the Department
The Department created the title of Visiting Professor in Practice in order to have the contribution of renowned personalities and experts that perform a relevant role in their work for development, international relations, and public best practices, and whose well-known trajectory is the basis of a profound knowledge regarding these topics at a global level.
On this occasion, President Garcia's inaugural conference at the Hong Kong Theatre addressed the need to re-think abut a new development agenda for Latin America.
The LSE's Department of International Relations is considered as the most distinguished of its kind in the United Kingdom, and belongs to one of the most prestigious universities in the world.