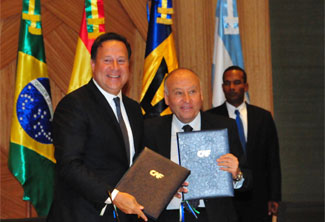 President Varela sealed agreement with CAF for Panamanian development
December 05, 2014
The joint declaration signed by Panama and CAF highlighted a support of USD 2 billion for the next five years, to be used in projects that promote Panamanian development
Juan Carlos Varela, President of the Republic of Panama, and Enrique Garcia, Executive President of CAF, Development Bank of Latin America, met in Panama for CAF's CLII Board Meeting and signed a joint declaration that highlights a support of USD 2 billion for the country during the next five years, to promote the Panamanian government's development strategy, which prioritizes social inclusion and equity.
Panama and CAF will deepen the cooperation in the energy, infrastructure, urban transportation, and logistics sectors, as well as the exchange of knowledge in the areas of water and sanitation, health, education, urban renewal, and institutional strengthening, among others.
President Varela highlighted, "These disbursements made to our government during the 2014-2019 period will be one of the main boosts to comply with the commitment with a State vision that we made when we started our Government on July 1st, which we ratify today to guarantee human and sustainable development of the Panamanian nation".
Enrique Garcia ratified CAF's firm commitment with Panama and assured that the Latin American financial institution will support the Panamanian government's development strategy. Garcia also highlighted the need to "deepen cooperation at a public and private level, to strengthen the country's competitiveness as well as its role as an essential focus for Latin American integration, as a bridge between the Atlantic and the Pacific, and as an international trading platform".
Panama and CAF reiterated their decision to collaborate in projects such as the 100-0 basic sanitation plan, sanitation of the city and the bay, urban renewal of the city of Colon, urban transportation, electrical interconnection with Colombia, port modernization in Vacamonte and Puerto Armuelle, air and port expansion, and logistic development, among others.
Since Panama joined CAF in 2008, the Latin American financial institution has performed a relevant role in investment projects that are essential for the country's development, such as the Canal, the Metro, and the sanitation of the Bay.