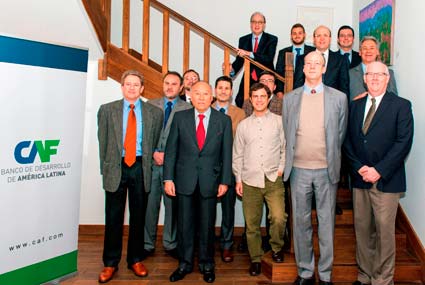 First meeting of CAF's European academic network
Participants represented Spain, France, Portugal, and the United Kingdom
Enrique Garcia, CAF's Executive President, inaugurated the meeting, which gathered representatives from the most important university centers in Spain, from the universities of Alcala and Salamanca; France, from Sciences Po; Portugal, from the University of Lisbon; and the United Kingdom, from the London School of Economics and Political Science (LSE) and Oxford University.
CAF maintains strategic alliances with these universities that actively contribute to the generation and dissemination of topics of interest for Latin America, as well as the Institution's international positioning.
The objective of the meeting was to make a balance of the results and impact of the agreements with the universities, as well as value the benefits of constituting a European academic network headed by CAF, which contributes to generate synergies and promote joint work between the members of the network and the other centers with which CAF has agreements in Latin America, the United States, and Asia.
Participants from CAF included Guillermo Fernandez de Soto, CAF's Director Representative for Europe; Pablo Sanguinetti, Corporate Director for Economic Analysis and Knowledge for Development; Andres Rugeles, Corporate Secretary; German Rios, Director for Strategic Affairs, and executives from OEUR and SRE.
The meeting established the basis for a greater coordination between CAF and its strategic allies, as well as the establishment of bridges with Latin America.