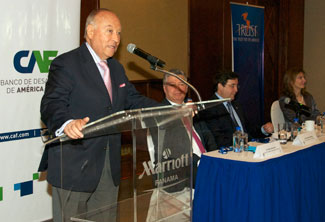 CAF, OAS, and Microsoft, subscribe an agreement to promote the democratization of access to new technologies
April 09, 2015
The initiative "Democratizando la Innovación en las Américas" (Democratizing Innovation in the Americas) will provide training to young people through tutorials and professional practice that will strengthen their technological knowledge
In the framework of the VII Summit of the Americas, CAF, Development Bank of Latin America, granted a technical cooperation to The Trust For The Americas, a non-profit organization affiliated to the OAS for the development of Democratizando la Innovación en las Américas (DIA) (Democratizing Innovation in the Americas), an initiative that seeks to improve access to opportunities for the young population in vulnerable communities of the region.
CAF, OAS, and Microsoft Corporation subscribed an agreement through which they will support the hemispheric initiative, also supported by AES Corporation and Seattle International Foundation, among others.
The Democratizing Innovation in the Americas initiative suggests the creation of technological innovation centers or hubs throughout Latin America to provide training for young people with tutorials and professional practices through a curricular program, to strengthen their technological knowledge. The hubs, which will be presented in alliance with the Universidad Tecnológica Santa Catarina in Monterrey, Mexico, will strengthen the Programa de Oportunidades Económicas a través de la Tecnología en las Américas (POETA CAF) (Program for Economic Opportunities through Technology in the Americas), an initiative framed within the Trust for the Americas, which seeks to promote healthy environments and social integration among young people through the teaching of skills for life and work training.
Enrique Garcia, CAF's Executive President, stated, "The use of new information and communications technologies (ICT) is a determining factor for development in Latin America, as it allows for a greater dynamism in the transmission of knowledge, it generates new opportunities for inclusion, and contributes to economic growth and social equity in the region".
CAF and The Trust for the Americas work together since 2013 on joint programs focused on improving the social conditions of the youth in the region.