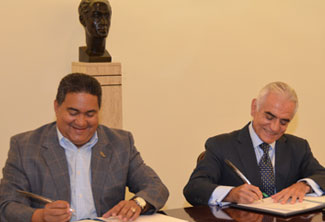 CAF grants resources for the restoration of the Athletics Hall of Fame
May 20, 2015
The Venezuelan Athletics Federation will allocate the resources to restore the acrylics and pictures of the gallery of athletes located in the Brigido Iriarte Stadium
CAF, Development Bank of Latin America, granted a technical cooperation to the Venezuelan Athletics Federation (FVA, for its acronym in Spanish), for the restoration of the Hall of Fame, the acrylics and pictures of the gallery of athletes located at the Brigido Iriarte Stadium in El Paraiso, Caracas.
Luis Enrique Berrizbeitia, CAF's Executive Vice President and President of the CAF Marathon Organizing Committee, stated, "Since 2013 we have a Memorandum of Understanding with the Federation, which has helped us with the international and technical projection of the CAF Marathon. This contribution is a continuation of the strategic relations of both institutions, which we hope will continue to bear fruits in the future. At CAF we are interested in having a long-term relationship".
At the same time, Marcos Oviedo, Vice President of the FVA, thanked CAF for its support. "We are going to restore the Hall of Fame and bring back the acrylics and pictures of the athletes that have given us fame. In the name of the Venezuelan Athletics, thank you very much".
Thus, CAF, in the framework of its comprehensive agenda in favor of sustainable development and regional integration, reaffirms the importance of sports as a tool for human, social, and inclusive development in Latin America.