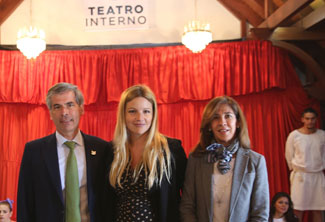 First post-conviction house opens its doors in Colombia
July 29, 2015
With the presence of the highest legal authorities in the country, the official opening of the "House of Liberty" was held in Bogota, an unprecedented initiative in Latin America, which accompanies the post-convicted population on the road to full integration into society
This novel experience started by the Ministry of Justice and Law, the Instituto Nacional Penitenciario y Carcelario INPEC (National Penitentiary and Jail Institute), Colsubsidio, and the Teatro Interno Foundation, supported by CAF, Development Bank of Latin America, aims to build a space to accompany post-convicts once they recover their freedom, guiding their steps toward a full social and labor reinsertion in addition to providing support for their personal growth.
For Yesid Reyes, Minister of Justice who presided the act, the 365 people who will come out of the penitentiary centers during the second semester of this year will be potential users of this space. He added "The average age is 33 years old. That is, they are fully productive and need opportunities to reincorporate themselves into society, and that is what the "House of Liberty" will provide.
The "House of Liberty" starts its activities with daily programs which include training in financial education, entrepreneurship and sales, and consulting and opportunities for micro-credits, in addition to providing continuity in the personal development work that the Teatro Interno Foundation has been conducting, lead by Colombian actress Johana Bahamn, in the different jails in the country, making theater an agent of transformation with surprising results.
In this respect, CAF, Development Bank of Latin America, in line with the search for innovative solutions that contribute to resolve the great social challenges in the region, promotes this unprecedented experience that builds bridges between former convicts and society. For Ana Mercedes Botero, Director of CAF's Innovation Initiative, this project "opens non-conventional roads to meet and reconcile through theatrical practice within and outside the walls, the creation of social and disciplinary competencies, training, promotion of the individual, and strengthening of his dignity and self trust".
In summary, the "House of Liberty is projected as a learning and reference space to improve the rehabilitation and insertion programs for former convicts, where organizations such as AVON, Bancamía, BanColombia and Banca de Oportunidades also participate. As part of the activities, there will also be the possibility to practice theater, yoga, and there will be theatrical presentations resulting from the training workshops, which will be periodical and open to the public.