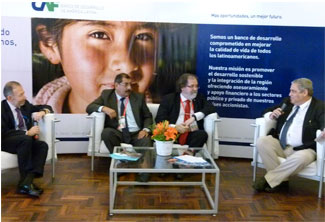 Bolivia and Brazil ratify commitments for energy integration
August 27, 2015
CAF organized an energy integration meeting between authorities of Bolivia and Brazil, private entrepreneurs, and academics from the energy sector, to contribute in electric energy export projects
During the conversation organized by CAF, Development Bank of Latin America, in the framework of the International Congress Bolivia Gas & Energia 2015, organized by the Chamber of Hydrocarbons and Energy in Santa Cruz de la Sierra on August 19th and 29th, Luis Alberto Sanchez, Minister of Hydrocarbons and Energy, stated that after the energy integration alliance signed not long ago in Brazil, Bolivia works on several projects for the generation of electric energy surplus to export to the neighboring country
The conversation included the participation of Eduardo Paz, Executive President of the National Electric Company of Bolivia (Empresa Nacional de Electricidad de Bolivia (ENDE)); Pedro Luiz de Oliveira Jatobá, Superintendent of Foreign Operations at ELECTROBRAS (Brazil) and Hamilton Moss, Energy Vice President at CAF. The moderator was the financial institution's Director Representative in the country, Emilio Uquillas.
Panelists mainly addressed energy integration between both countries and spoke about a favorable environment due to the "existence of political will, long term vision, and the optimal timing and strength that Bolivia is experiencing". They also highlighted the participation of international financing entities, private companies, and the State.
The meeting highlighted the electricity generation projects in Bolivia and its plans to export to Argentina, Brazil, Peru and Paraguay, seeking to become the energy center of South America, and the need for financing in order to achieve this goal. ENDE's President stated that for 2026, Bolivia projects to have an exportable offer of 10,000 Mw to meet the demands of the internal and external markets.
Paz pointed out that Brazil's demand for energy reaches 8,000 Mw, and Bolivia is studying several projects to address this need. In this respect, he informed that currently the national demand for electricity is covered and does not exceed 1,300 Mw, so there is a surplus of 200 to 300 Mw available for the countries with which Bolivia wants to integrate as soon as possible. He advanced that investments are being made in four hydroelectric projects to generate close to 500 more Mw, and that for 2020, exports will exceed 1,000 to 1,500 Mw. In addition, he stated that projects are being studied to generate an additional 3,000 to 4,000 Mw.
Pedro Luiz de Oliveira Jatobá, Superintendent for Foreign Operations at ELECTROBRAS, stated that the contact with Bolivia is important for Brazil, to jointly plan and study the strengths of the country to see what is the best way to share them with the Brazilian electric system, seeking the development of both nations.
Hamilton Moss, CAF's Energy Vice President, expressed that promoting integration is essential for the Institution. He reiterated that CAF will continue to collaborate with Bolivia, a country with whom there is a long history of financial support.
At the same time, Emilio Uquillas, CAF's Director Representative in Bolivia, stated that the meeting allowed actors to talk about the historical timing for energy integration, a project which, due to its magnitude, provides space for the participation of all multilateral organizations, financing agencies, and private companies.
He stated that CAF is a part of the economic history of its member countries, ally of the public and private sectors, providing not only financial resources but also best practices and public policies to achieve sustainable development in the region.
Through the Sustainable Hydro-energy program, CAF is supporting the Ministry of Hydrocarbons and Energy of Bolivia in identifying the hydroelectric potential to determine a new portfolio of hydroelectric projects that strengthens its new electric energy export program.