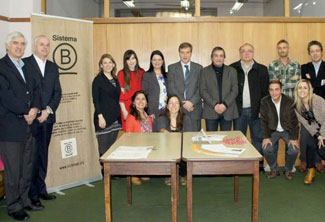 CAF supports the creation of System B in Uruguay
August 11, 2015
A group of ten directors and nineteen founding members representing the public, private, and academic sectors, met to sign the founding charter to formally start the operations of System B in the country
In an event that included the participation of Gladis Genua, CAF's Director Representative in Uruguay, as part of the founding members of the System B Civil Association in this country, the creation of this organization was formally established, to promote the market strength to solve social and environmental problems, as it includes 174 B Enterprises certified in South America.
A group of ten directors and nineteen founding members representing the public, private, and academic sectors, met to sign the founding charter that formally starts the operations of System B in Uruguay, as part of the expansion of the B Enterprises model, a project that CAF, Development Bank of Latin America, has been supporting as a strategic ally at a continental level through its Direction of Social Innovation.
During her presentation, Genua stated, "As a development bank, we applaud and are proud to promote this movement that is committed to change and ethics in business. We are aware that this new private sector, B Enterprises, has the potential to become a powerful agent for sustainable development, to evolve toward an economy where success is measured by the wellbeing of people, societies, and nature".
The Civil Association System B Uruguay works in association with System B International, an organization based in Chile that promotes the transition toward sustainable economies with the initial priority being the development of B Enterprises. These were born in the US (B Corporation) and quickly expanded throughout the world. Currently, there are more than 1,300 enterprises in 41 countries, where 174 are located in South America, and 3 in Uruguay (3Vectores, Kivoy and BioTerra).
System B is currently operating in Chile, Argentina, Brazil, Colombia, and now in Uruguay. The ecosystem promotes new economic forces, providing scalability to companies that redefine success in business, using the market force to solve social and environmental problems.
In the past year, B enterprises have become visible in regional media such as La Nación, El País Colombia, La Tercera, Ámbito Financiero, Revista Noticias, Exame, O Globo, and international media such as CNN, New York Times, Huffington Post, The Guardian, and World Economic Forum, among many others.