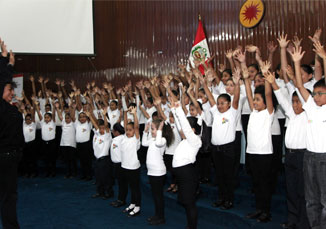 Training is provided to choral directors and instructors for social transformation
August 13, 2015
The Music to Grow Program, a CAF initiative, is implemented in seven regions of the country, in alliance with the Sistema de Coros y Orquestas del Ministerio de Educación y Sinfonía por el Perú (System of Choirs and Orchestras of the Ministry of Education and Symphony for Peru), headed by tenor Juan Diego Flórez
Some of the objectives of the Music to Grow program are to support the consolidation of its counterparts in each country and provide services to an increasing number of girls, boys, and youths, based on the training of local teachers.
In the framework of this initiative promoted by CAF, Development Bank of Latin America, Venezuelan maestros Pablo Morales Daaol, Choir Director, and Alexander Simoes Centeno, Vocal Technician, both from the Schola Cantorum Foundation of Venezuela, conducted workshops from August 3rd to 9th, aimed especially at choir directors and instructors at a national level of Sinfonia por Peru (Symphony for Peru), as well at girls, boys, and youths belonging to the choirs of the city of Lima, at the headquarters of the Cultural Center of the Universidad Nacional Mayor de San Marcos.
This training for 16 choir directors and instructors started a new phase of the program, focused on the training of trainers and multipliers who will help expand the coverage of musical teaching as a tool for social transformation. In addition, this work enabled the work with diverse children and youth choirs which, in total, benefited 106 individuals in this activity.
At the closing of the workshops, a Closing Concert was performed by the VII Misión - Voces Latinas a Coro, at the facilities of the Cultural Center of the Gran Logia del Peru, where participants showed the lessons learned from this enriching experience both for directors and instructors, as well as for the members of the participating choirs and their families, who enjoyed a wide repertoire which included classical music as well as Latin American folklore.
Peru in numbers
A total of 2,576 girls, boys, and youths have benefited during the past five years from the Music to Grow program. This initiative has contributed to the comprehensive training of these children and youths, focused on musical education as a tool for social transformation, especially for populations with few beneficial alternatives for the use of free time.
During the past period, Music to Grow in Peru has trained 1,526 children and youths in the orchestral area, and close to 70 maestros have benefited in Lima, Cusco, Huánuco, Puno, Trujillo, Huaraz and Cajamarca. In the choral sphere, 983 girls, boys, and youths have benefited.
The program started in alliance with the Choir and Orchestras System of the Ministry of Education, directed by maestro Wilfredo Tarazona. Since 2011, it has also been working with Symphony for Peru, headed by Juan Diego Flórez, renowned Peruvian tenor who saw in the Youth and Children's Orchestra System of Venezuela a model to copy in his country.