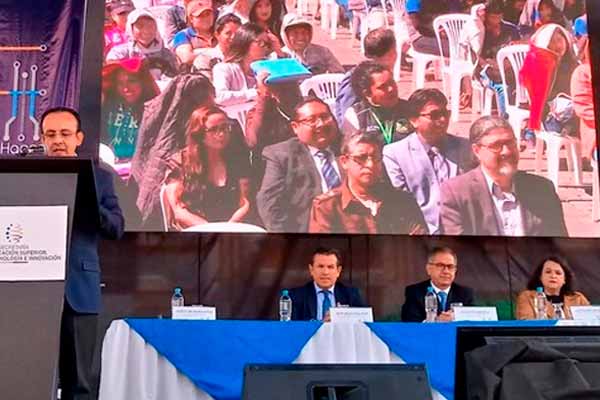 New contribution to the improvement of higher education in Ecuador
July 12, 2018
CAF-development bank of Latin America- and the Ministry of Higher Education, Science, Technology and Innovation (Senescyt), signed a cooperation agreement to improve the quality of technical and technological training in Ecuador, based on inclusion, technological development, and economic and social relevance, as well as a continuous improvement approach.
The initiative includes the development of a proposal for standards, processes and indicators in terms of infrastructure, equipment and services needed to attain high-quality technology training in higher education.
The agreement was signed in Riobamba, Chimborazo province, with the presence of Augusto Barrera, minister of Higher Education, Science, Technology and Innovation; Bernardo Requena, director-representative of CAF in Ecuador; Christian Murgeytio, deputy minister of Higher Education; Margarita Guevara, governor of Chimborazo; and Catalina Vélez, president of the Higher Education Council.
The minister of Senescyt explained that the reforms to the LOES will allow technological and technical institutes to award higher education diplomas, providing young people with access to fourth-level technological studies or to continue their education at universities or polytechnics. Barrera also explained that this Law creates a true system of technical and technological training, built around the creation of 44 new university technical institutes.
Bernardo Requena, director-representative of CAF, also said that the technical cooperation agreement is a pre-condition for the granting of a loan in the amount of $25 million for the implementation of the plan for improvement of technical and technological training. He also explained that this tier of education will be enhanced in three aspects: quality of the academic offering, the implementation of an efficient scheme of the technical and technological training centers; and the articulation of the needs of companies with the academic offering of the institutes.
Finally, the President of Ecuador, Lenín Moreno, said via videoconference that the technical and technological courses will contribute to the reduction of unemployment, since they allow young people to insert themselves rapidly into the productive sector.
In addition, other innovations developed for the benefit of students were presented during the event: the TyT digital shop, a showcase of products and services of institutes, and a job fair, where students will have access to job opportunities, based on the demand of public and private companies. And as part of the linkage with the productive sector, the EmprendeTTec initiative was launched, to encourage young entrepreneurs to apply for a loan.
With this support, and the funding for the creation of the University of Santo Domingo de los Tsáchilas, CAF hopes to contribute to the increase and diversification of more relevant academic offerings and with higher quality for the Ecuadorian youth, thus increasing the quality of the human talent specialized in strategic areas for the economic and social development of the nation.