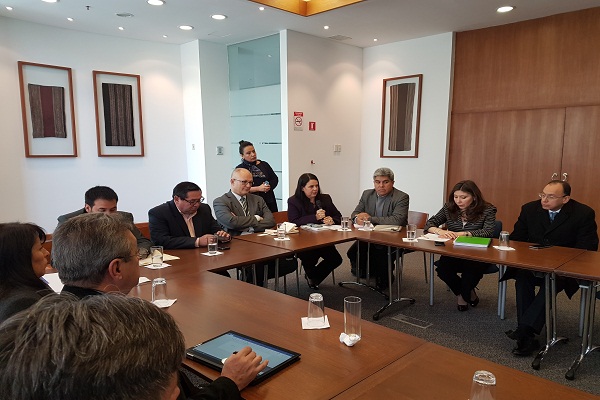 Ten new hydroelectric projects could generate 1,500 MW in Bolivia
La Paz/Bolivia ,
July 02, 2018
The study identified a total of 216 new potential electricity generation projects in the country.
In order to assess Bolivia's potential for hydroelectric generation projects, CAF-development bank of Latin America- presented a study that identified 216 new hydroelectric projects, ten of which have been given priority, which could generate around 1,500 MW of hydroelectric power, with an estimated investment of USD 3.5 billion.
Financed by CAF and OFID (OPEC Fund for International Development), the study was carried out by consulting firm Poyri, with technical backing from the Department of Energy, the CNDC (the National Electricity Transmission Commission) and ENDE, coordinated by CAF's Energy Analysis and Strategy department. The results of the study were presented to officials of the Department of Energy, executives of Empresa Nacional de Electricidad (ENDE), and other players connected with Bolivia's energy sector, in the presence of CAF's Corporate Vice-President of Infrastructure, Antonio Pinheiro, who stressed the importance of hydroelectric generation.
"Energy and development go hand in hand, and although many sources of energy are currently available, hydroelectric generation is still one of the most important, and Bolivia has immense potential in this sector," said Pinheiro.
The head of the consulting firm's Hydroelectric Project Studies department, Alexander Arch, explained that 216 new potential projects in Bolivia had been identified, not considering projects currently underway and in operation. Ten of these projects (each with the potential to generate between 100 and 300 MW) have been given priority for their feasibility and cost-benefit ratio. These projects would take less time to build and implement and have a lower impact on local communities, since there would be fewer social and environmental risks.
Arch said that 170 rivers were identified during the first two stages of the study, which began in April 2017, 23, based on the country's topographic and hydrological features and its river network, establishing that there was a potential technical usable remnant of approximately 40 GW. The ten potential projects identified are located in the lowlands and are fed by the Mamore, Beni, Tarija and Pilcomayo basins, and the Altamachi, Ivirusu, Amaguaya, San Pedro, Chayanta, Tarija, Mapiri, Chimoré, Alto Beni and Pilcomayo rivers.
Gladis Genua, CAF's representative director in Bolivia, stressed the importance of the study's results and said that they would be particularly useful for the Department of Energy and ENDE in tapping into Bolivia's hydroelectric potential and prioritizing projects that supply the local and export market.
"We want to increase our support to the Bolivian energy sector because we believe that there is a huge potential in investing in renewable energy generation, meeting local demands and exporting to neighboring countries," she said, when offering financial and technical support for this strategic sector of the national economy.
The Minister of Energy, Rafael Alarcón, thanked CAF for financing the study into Bolivia's hydroelectric generation sector, underlining its importance to the country, which is aiming to become the region's energy center. According to Alarcón, this was the first step in increasing energy exports from Bolivia, whose production potential is 40,000 megawatts.
"The region has major energy needs and with the help of CAF we can accomplish our purpose of contributing to the development of this sector in the region," he added.