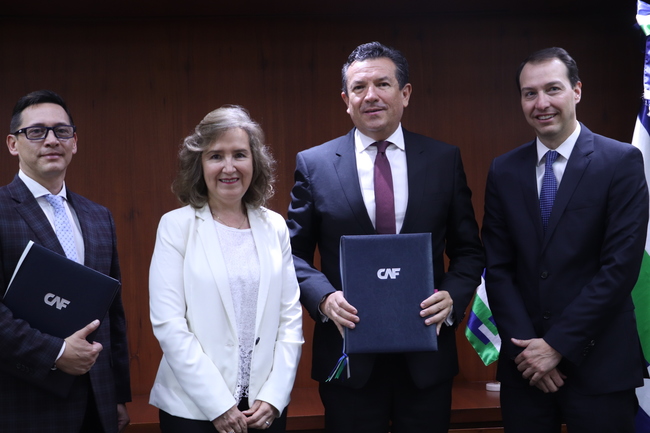 MSMEs in Ecuador receive support to promote inclusion and financial development
Quito, Ecuador,
January 30, 2019
Micro, small and medium-sized enterprises will be able to finance their working capital and short-term investment needs through credit unions.
CAF development bank of Latin America granted a $15-million line of credit to the National Corporation of Popular and Solidarity Finance (CONAFIPS) to promote inclusion and financial development for micro, small and medium-sized companies in Ecuador through qualified credit unions.
Upon signing the agreement, Bernardo Requena, CAF representative in Ecuador, explained that financial inclusion has positive effects on productivity through the creation and formalization of jobs, a greater diversification of economic participation and improvements in efficiency, all of which has an impact on competitiveness.  Furthermore, he noted that greater financial inclusion promotes the development and deepening of financial markets.
HtmlAgilityPack.HtmlAttribute
Mercedes Salinas, president of the CONAFIPS Board of Directors, explained that this organization works to help entrepreneurs, in the popular and solidarity-based economy, gain access to financing under better terms and thereby help reduce poverty, create jobs and promote financial inclusion.
The operation will support priority sectors and production chains within the national strategy, such as: trade, agriculture, fisheries, manufacturing and tourism, in order to improve company productivity and diversify production.
CAF's contribution focuses on the financing of MSMEs to promote improvements in productivity and increase exports. This impacts positively on the nation's balance of trade, has a direct impact on high-quality job creation, as well as ensuring higher production and added value. In addition, the plan includes supporting CONAFIPS in the design and implementation of a system of environmental and social risk assessment that can be extended to financial institutions such as credit unions.
The funds from this operation will be delivered to credit unions and are part of the US$200 million that CONAFIPS will distribute across the country through financial organizations working in the popular and solidarity sector. The national government distributed $194.9 million in loans through CONAFIPS in 2018. They were allocated to the productive sector, utilizing 159 credit unions, mutual funds, savings banks and community banks across the nation. The funds benefited more than 140,000 Ecuadorians. 
The event also featured delegates from the Ministry of Economy and Finance, the National Planning and Development Department, the Ministry of Economic and Social Inclusion and the Ministry of Production, Trade, Investment and Fisheries, which are part of the National Popular and Solidarity Finance Corporation.