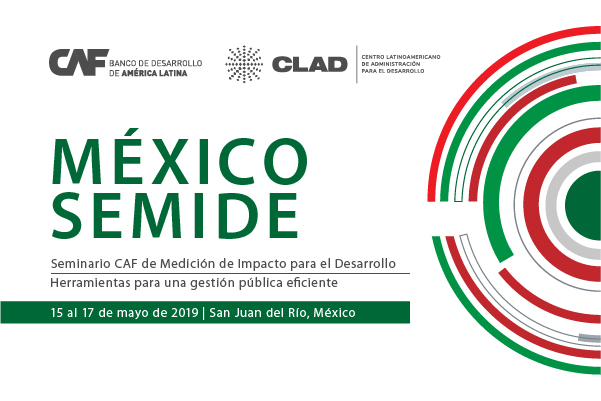 CAF offers 35 scholarships for Seminar on Impact Measurement for Development in Mexico
Ciudad de México / México,
March 25, 2019
For the fifth consecutive year, CAF will host the seminar on impact assessment, designed specifically for Mexican government officials, offering scholarships for which participants may apply until April 1.
Good public policy management is an important issue for a nation's growth and for improving well-being of their residents. Sometimes, however, the tools available for implementation are not used to their full extent, e.g. impact assessment.
Impact assessment is defined as a tool to measure the effectiveness of a policy or program, in order to determine after implementation whether changes are actually attributable to their application. Impact assessment can also address questions about the effectiveness of any component or action that seeks to innovate or improve implementation of a particular policy. Thus, this tool helps create valuable evidence and learning experiences for any public institution to make better decisions and increase the quality of their management.
Considering the relevance of this governance tool, CAF—development bank of Latin America—will host the fifth edition of the Seminar on Impact Measurement for Development (SEMIDE) in Mexico. This event consists of a theoretical-practical workshop where participants can gain a deeper understanding of impact assessment notions, learn from experiences of successful assessments in the region and participate in a series of hands-on activities to get a firmer grasp on different aspects of this tool.
This seminar is designed for civil servants with a keen interest in innovation and continuous improvement in public management, as well as a vocation for public service and well-being of the population served by their institution. It should also be noted that applicants must not necessarily be knowledgeable about impact assessment, because CAF will provide this training in the months prior to the seminar.
On this occasion, SEMIDE will target exclusively Mexican government officials and will take place on May 15 to 17 in the city of San Juan del Río. The call will be open until April 1 and candidates may apply on this link. Selected candidates will receive a full scholarship to attend the seminar, which will include air and ground transportation, lodging and meals during the event.
Since its inception in 2015, SEMIDE has trained a total of 140 Latin American government officials in its editions held in Peru, Argentina and Ecuador, and has featured about 50 trainers from different public sector areas. Thus, participating in SEMIDE also represents an opportunity to be part of a network of alumni and partners that generates value through dialogue among its members.