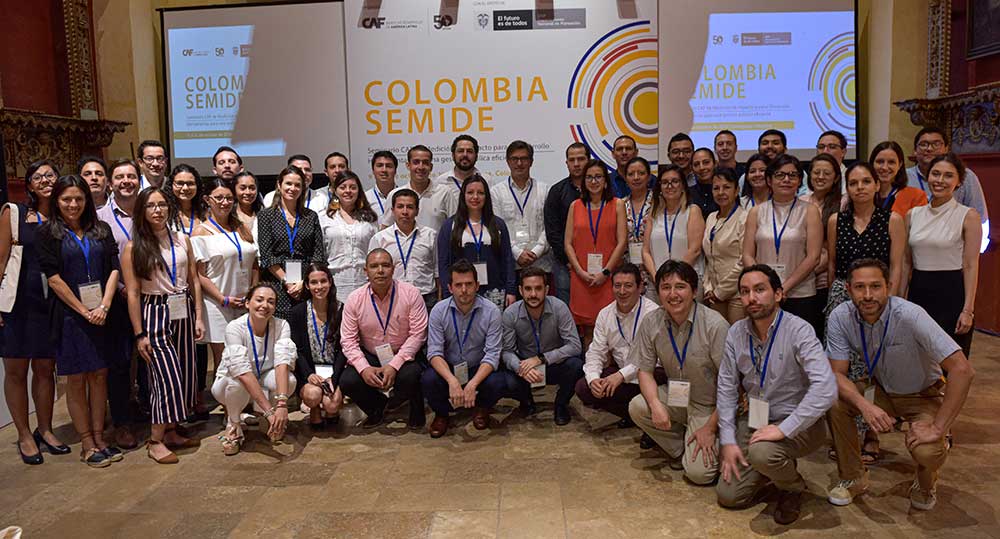 SEMIDE Successfully Completes First Colombia Edition
October 14, 2019
This event is opening up opportunities for improvement in public management for Latin American countries, based on experiences from all over the region.
In the Colombia edition of the SEMIDE theoretical-practical workshop organized by CAF with the support of the National Planning Department (DNP) and the Latin American Center for Development Administration (CLAD), a total of 36 Colombian officials received training and advice on successful techniques and experiences for the use of impact assessment as a public management tool.
The SEMIDE participants underwent a screening process, and the selected officials received full scholarships, which guaranteed the presence of attendees from all corners of the country. Public servants also came from different levels of government in Colombia and learned know-how on measuring, implementing and improving public projects that will help them better implement initiatives they are carrying out to boost local development.
"Evaluation is a fundamental tool to improve public sector effectiveness, and thus bring about profound changes in the impact and development efforts made daily in different cities of Colombia and Latin America," said Daniel Ortega, Impact Assessment Director at CAF.
During the meeting, participants listened to experiences of a group of academics and public officials, including Professor Ernesto Schargrodsky of Torcuato Di Tella University, who analyzed cases of public safety policy assessments and lessons learned, describing the effects of increasing police presence on crime and the effectiveness of compulsory military service on engagement in criminal activities. Other speakers included Lesbia Maris of the Impact Assessment Directorate of CAF, Jaime Orlando Delgado, a specialist at the Administrative Department of Public Service, Lucas Gómez, technical director of monitoring and evaluation at DNP, Jorge Gallego, a teacher at the University of Rosario, Olga Zárate of the Ministry of National Education, and Sebastián Pereiro, Undersecretary of Human Rights Protection, Buenos Aires.
SEMIDE has been held in Argentina, Peru, Ecuador, Mexico, and now Colombia, and will continue to consolidate as a critical forum to promote impact assessment as a tool to improve public management and thus effectiveness of policies In Latin America.