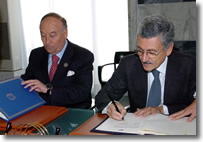 October 17, 2007
To deepen the links between Italy and the 17 member countries of the Corporation, the Italian foreign minister and CAF president signed a memorandum of understanding to open the way for the country's membership of the multilateral financial organization.
(Special, October 17, 2007).- Vice President of the Council of Italy and Foreign Minister Massimo D'Alema, and CAF President & CEO Enrique García, signed a Letter of Intent today in Rome in which they agree to speed up negotiations for Italy to become a shareholder of the multilateral organization. The aim is to coordinate efforts to intensify relations between Italy and CAF member countries, as part of actions to reduce poverty and support Latin American development.
"The agreement reaffirms our intention to join with the multilateral regional bank, leader in sustainable development and integration in Latin America," Massimo D'Alema said. "The signing, which took place during the Third National Conference on Latin America, is another example of the deep links between Rome and Latin America." The Italian minister added that the Foreign Affairs Committee of the Chamber of Deputies yesterday approved the bill to authorize the participation of Italian capital in CAF.
Garcia said, "since CAF is the home of integration, and inspired by the cultural and historical ties that unite Italy with our member countries, we are committed to deepening relations between that country and our region." All this effort is based on the importance of sharing respective experiences, such as those acquired by the Corporation in the areas of integration and sustainable development in favor of Latin American countries.
The relationship between CAF and Italy has already produced a series of cooperation agreements which have successfully laid the foundation for future Italian membership. These include the agreement signed with the Italian foreign affairs ministry which set up the FGCI Cooperation Fund to provide technical and financial support to CAF for common economic and social development projects; the agreement with Società Italiana per le Imprese all'Estero (SIMEST) to stimulate development of medium-sized enterprises in Latin America through a co-financing program; and the agreement with the Italian-Latin American Institute (IILA), among other actions that favor the interests of both parties.