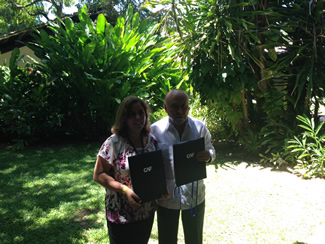 CAF-SIECA Alliance to Promote Regional Integration
March 29, 2014
Accord signed in Brazil will rely on synergies between both institutions to support public and private-sector programs that promote regional integration.
(Brasilia, March 29,2014)CAF Executive President, Enrique Garcia, and the Secretary General of the Central American Economic Integration Secretariat (SIECA), Carmen Gisela Vergara, signed an agreement that will create a framework to develop joint activities supporting regional economic integration.
"The challenges confronting regional integration are many and complex, but there are also opportunities to achieve real progress by laying the foundations for development that will benefit the majority of Latin Americans," said Garcia.
"Agreements signed today with SIECA reflect the institution's commitment to regional integration," Garcia added, emphasizing CAF's support for physical infrastructure development, border integration and social and sustainable development across the region.
The agreement establishes inter-agency collaboration to conduct joint research in the areas of trade and investment facilitation; support programs to promote economic rights of women and their incorporation into global business chains; develop programs that promote productive and competitive capacities in the private sector; joint efforts that encourage sustainable development and regional integration; and training programs for officials at both organizations in all areas of cooperation, among others.
SIECA is a technical and administrative body that promotes economic integration in Central America. Its functions include providing support services to organizations that facilitate the economic integration process in Central America, as well as manage support services that promote trade within the Central American common market from a global perspective.