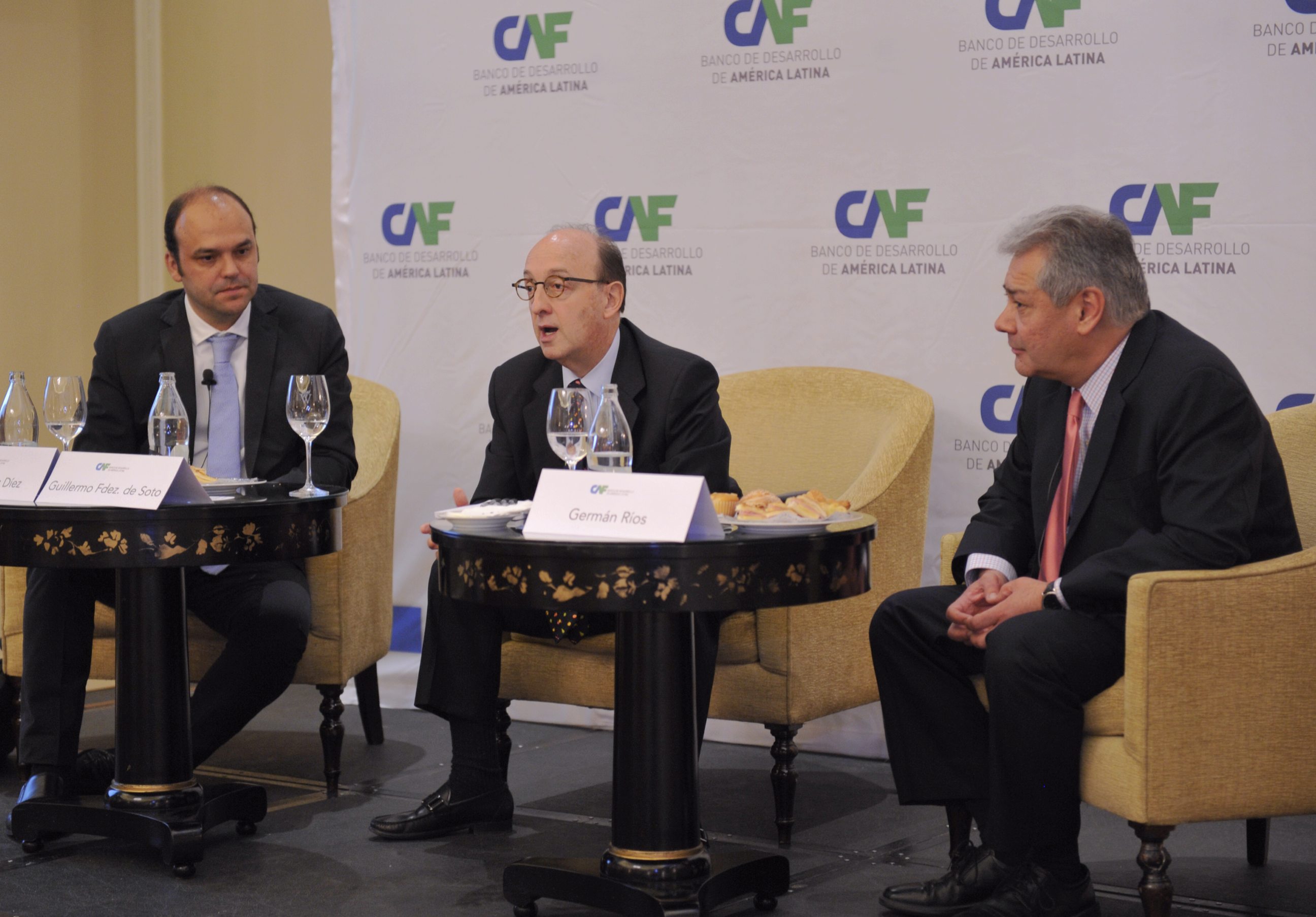 Latin America moderates its growth, but is more resilient to the crisis
July 02, 2014
The event "España y América Latina: evolución y perspectivas" (Spain and Latin America, evolution and prospects), organized by CAF, highlighted that one of the challenges of the region is to reduce social inequality by improving education and increasing productivity.
CAF -Development Bank of Latin America-, organized the working breakfast "Spain and Latin America: evolution and prospects" which reviewed the current economic situation of Spain and the opportunities that are opening in the Latin American region.
Guillermo Fernandez de Soto, CAF's director for Europe, inaugurated the event and highlighted that "Latin America is different and, despite its slowdown, it continues to grow, but must do so with equality and a better distribution of wealth," while warning that, "if there is no sustained and quality growth, it will not be possible to respond to the demands of the middleclass for services and quality of life, so it is important to maintain the growth trend".
With respect to Europe, Fernandez de Soto, underlined that "it will continue to be an essential actor in the international economy, a driver, and the role of Spain may be essential after the recovery signs that have been registered." He also stated that "Europe has to explain what it will do with its welfare model. Europe and Latin America need strong leaderships that enable advances in the challenges brought forward by economic growth."
Jose Carlos Diez, economist and professor of the Universidad de Alcala, reviewed the evolution of the crisis in Spain and explained his economic estimates for the coming year: "Growth has returned to Spain, but it is still slow." In addition, he underlined that greater efforts must be made to reduce the high levels of indebtedness and to correct the fiscal situation.
From an external point of view, Diez advocated to strengthen ties and seek new opportunities in the countries of South America and the Caribbean, which are in CAF's area of influence: "They are growing at a moderate but constant pace, a situation that is opening many doors in order to strengthen their development," he pointed out.
German Rios, CAF's Director of Strategic Affairs, explained that the prospects for Latin America in 2014-2016 are positive, in an international environment of gradual recovery in the United States and Europe, and stabilization in China.
However, although Rios highlights that the results for the Latin American region show, "a resilient region able to face the difficulties and recover," they are also improving because their financial systems are much more solid, there has been an increase in transparency from their governments in terms of their economic policies, there have been reforms in past years, and there has been a change in the composition of capital flows, with more direct foreign investment, among other aspects.
Despite the quality of the data gathered, a great social inequality persists in the region, warned German Rios in his intervention, and suggested mechanisms and solutions such as "improvements in education, increases in productivity, and more working flexibility."