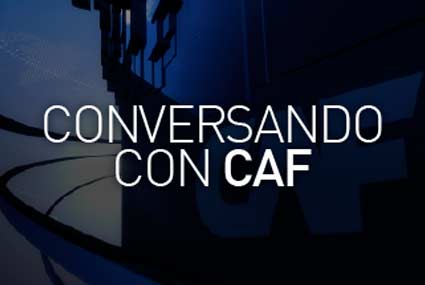 February 18, 2015
CAF's Executive President, Enrique García, and personalities of the global political and economic sphere, share their perspectives and experiences regarding key issues that impact the region
CAF -development bank of Latin America is pleased to announce the launching of "Conversando con CAF" (Conversations with CAF), a new space for influential personalities to share their diverse perspectives on current issues and their impact on Latin America. Through this initiative, CAF seeks to promote and disseminate knowledge about the key areas for regional development.
Enrique García, CAF's Executive President, highlighted, "Conversations with CAF is a monthly gathering for global and regional leaders to generate constructive dialogue leading to the advancement of a regional agenda, with a long term vision".
The dialogues are focused on key issues including international relations and economics, as well as on diverse priority sectors for sustainable development including integration, infrastructure, education, urban development, energy, environment, innovation, equity, and social inclusion, among others.
Upcoming editions of the program will feature the participation of special guests such as such as José María Aznar, former President of the Government of Spain; José Miguel Insulza, Secretary General of the Organization of American States (OAS); and Ricardo Lagos, former President of Chile.
Enrique García highlighted, "Development is a complex process that requires versatility. It requires bringing together ideas from multiple actors with diverse thoughts and ideologies".
Access this new space at www.conversandoconcaf.com and on YouTube