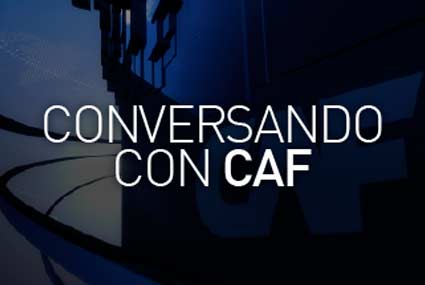 Jose Maria Aznar: Latin American immigration contributed to Spain's economic success in the most prosperous period for the country
April 28, 2015
The former President of the Government of Spain was Enrique Garcia's first guest to the program Conversations with CAF, where world leaders share their prospects regarding current issues and their impact on Latin America
In a conversation with CAF's Executive President, Enrique Garcia, Jose Miguel Aznar, former President of the Government of Spain stated that immigration between Spain and Latin America has notably benefited both regions.
Aznar stated, "I could not explain Spain's economic success during my government...without Latin American immigration". He also highlighted that during the 1990's and at the beginning of the decade of 2000, almost 5 million Latin American immigrants arrived in Spain looking for opportunities.
The meeting took place in London during the second production of the program Conversations with CAF. Aznar and Garcia highlighted the close and historic relationship between Spain and Latin America, addressing several topics among which the economy, immigration, and geopolitics stand out.
Aznar also highlighted the important commercial links currently existing between the regions. "The Spanish presence in Latin America during past decades has made Spain the second world investor in Latin America as a whole, and the first in some countries of Latin America". The former President also highlighted that Latin American markets have allowed, to a great extent, the internationalization of Spanish enterprises, and that the Spanish market has also represented an opportunity for the current expansion of multi-Latin companies.
CAF's Executive President also highlighted the important role played by CAF to facilitate the entry of Spanish companies in Latin America. He stated, "The presence of an institution such as CAF provides an important catalyzing matrix for security".
Garcia recalled the entry of Spain to CAF during the government of Aznar, which together with Portugal, are the only countries which are members of the Institution outside of Latin America and the Caribbean. Garcia stated, "The geopolitical decision that CAF made was to maintain a Latin American and Caribbean essence, with the exception that it may be Iberian-American".
The former President, who governed in Spain since 1996 until 2004, also talked with Garcia about the Atlantic Basin Initiative, which he leads at the Johns Hopkins University, seeking to promote the region's potential in the global scenario. Aznar stated, "If you look at the Atlantic Basin, you reach the conclusion that many people ignore, that most of the oil, gas, raw materials, minerals, food, and water reserves in the world are in the Atlantic Basin".
With respect to Spain, Aznar recognized that the current economic reforms advanced by the country have accelerated growth, compared with the rest of the Euro Zone, but he stated, "the great problem of Europe and Spain at this time is the high unemployment rate".
To see the dialogue between Aznar and Garcia, access the Web page www.conversandoconcaf.com and the YouTube channel Conversando con CAF