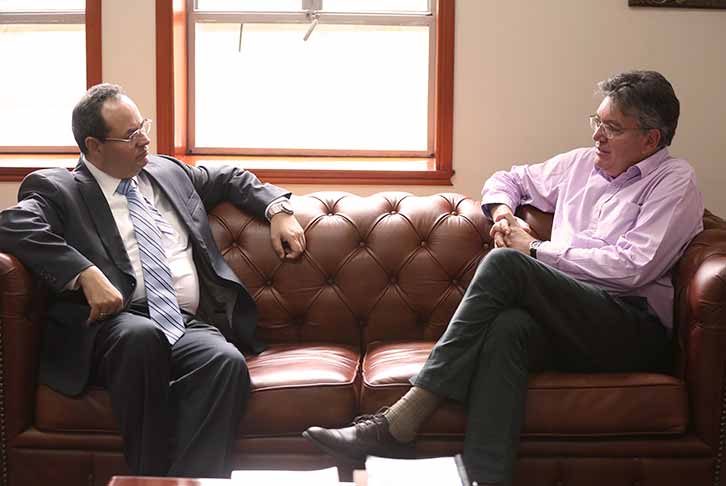 CAF strengthens its commitment with the development of Colombia
April 11, 2017
In a meeting held in Bogota, Juan Manuel Santos, Luís Carranza, and Mauricio Cárdenas agreed to deepen the relations between CAF and the Government of Colombia through technical and financial support for the development of infrastructure and strengthening of peace in the country.
Luis Carranza, CAF's Executive President, stated in a meeting with Colombian President Juan Manuel Santos and the Minister of Finance, Mauricio Cardenas, that the multilateral organization will continue supporting Colombia's development plans, especially through financing for its new infrastructures that improve the country's connectivity.
Carranza said that "there is a long standing commitment both from Colombia with CAF as well as from CAF with Colombia, and the idea of this new management is to strengthen and continue with the excellent relations that we have had".
CAF's Executive President added that the comprehensive development plans must consider infrastructure, with the objective of connecting large regions, thus increasing productivity and the competitiveness of the products that are being traded.
At the same time, Mauricio Cárdenas stated: "We need CAF for its talent and knowledge, so we want to request all its experience to carry out a development plan for Putumayo, a region that is rich in oil, water, and soil, and which we can use to benefit the population in an effective manner".
For the 2016-2018 period, CAF will approve USD 11.5 billion in favor of the country, aimed at financing projects that generate the conditions and opportunities to strengthen peace, and that contribute to close the development gaps. These funds will be implemented through credit operations for the public and private sector, and though technical assistance.